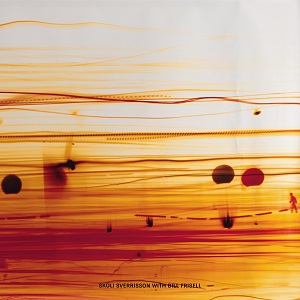 20 May 2021
Originally released only on limited edition vinyl as part of a box set subscription service, Strata – the debut album from Icelandic bassist/composer Skúli Sverrisson and maverick American jazz guitarist Bill Frisell – finally sees release for the less-well heeled music fan, if only in digital form. The two veteran musicians had never played together before this session, but you'd never know it from the results.
Recorded with just guitar and bass, with few overdubs, the songs settle into a melodic wave that's gentle, but not soft, like a clear river passing over rough stones. Performing Sverrisson's compositions, the pair fit their parts together as if joined at the hip, with Frisell's mostly clean lines riding his new pal's busy low-end like a jockey on a horse. The melody of "Ancient Affection" comes off as sweet but not saccharine, Frisell layering a spot of distortion into the track for a hint of tang. The tune of "Amedeo" sounds almost classical in tone, an approach that fits Frisell's luminous tone well. "Came to Light" sounds like an electrification of an old. Venerable folk song from the Nordic region, with a waltzing rhythm that lets each player wind around the other with a weaver's grace.
"Her Room" ends the record on a note of almost impossible beauty, like an elegy to a lost loved one that's celebratory, rather than grieving. It's a perfect way to top off what one hopes will be the first of many collaborations between these two magnificent musicians.