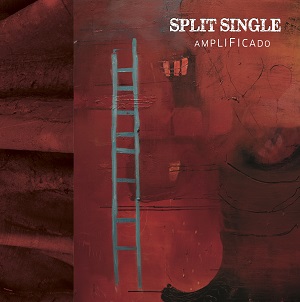 25 June 2021
Chicago's Jason Narducy has been a fixture of that city's punk and alt.rock scenes for decades, starting with the young, loud + snotty Verboten when he was a mere eleven years old. Though he's long led his own bands since (Jason & Alison, Rockets Over Sweden, the major label-signed Verbow), he's mainly known as a sideman, slinging the bass for Bob Mould, Superchunk, various Robert Pollard projects, and others.
Though he's done great work in that arena, it's also a shame in the sense that it takes away from his most fitting milieu: writing and singing his own songs. That's a point reinforced by Amplificado, the third album by his latest band Split Single. Joined by stalwart drummer Jon Wurster (also his rhythm partner with Mould, not to mention timekeeper for Superchunk and the Mountain Goats) and R.E.M. bassist Mike Mills, Narducy essays his usual approach: taking pop hooks, witty lyrics and punk energy, and turning it all into something more than mere power pop. "95 Percent" takes seething anger ("I have to hide from all the fiction jive that spills out of their craniums") and lets it lead to an irresistible singalong chorus ("95 percent committed/95 percent suspicious") that shouldn't work, but does, beautifully. "Stone Heart World" follows suit, raging tunefully about conservatives having "No answers/Just a cover for country clubs and stolen public funds" while blasting out guitar hooks. "I worry for our senseless hearts," he asserts on "Worry," but the melody behind that sentiment makes it seem like hope hasn't disappeared.
Indeed, it's not all teeth-gnashing. Narducy reunites with cellist Alison Chesley, AKA Helen Money, for the lovely, acoustic "Adri," and reiterates his dedication to rock & roll on the bracing "Bitten By the Sound." The album's best moment rivals "95 Percent" in catchiness, as "(There's Nothing You Can Do) to End This Love" loudly and tunefully makes Narducy's support for the LGBTQ community clear. "Anyone dumb enough/To stand between equal loves/Gets leveled in shame," he sings with as much joy as defiance, making the song righteous in every way imaginable. "(There's Nothing You Can Do) to End This Love" may be the album's most memorable, but that just makes it the marvelous frosting on an already delicious cake, one worth every substantial bite.