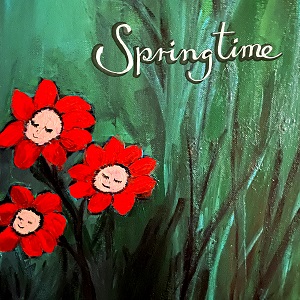 1 November 2021
As if former Drones leader Gareth Liddiard wasn't busy enough with the prolific, hard-touring Tropical Fuck Storm, he has to go and form another band in his native Australia – during the pandemic no less. But Springtime is an unusual proposition – joining Liddiard on his current journey are drummer Jim White of the hibernating instrumental art rockers Dirty Three (not to mention long-gone noise rockers Venom P. Stinger) and keyboardist Chris Abrahams, who holds down the piano chair in experimental drone jazz trio The Necks.
Given the penchant for each of these musicians' alma maters to push boundaries, sometimes beyond their limits, you might think Springtime would be a glorious mess. There's certainly some off-kilter music making going on here – check out the woozy rock of "Will to Power," or the slow build of improvisatory noise that overtakes the otherwise deliberate pace and volume of "The Island." But the group is just as dedicated to mournful balladry, from a stricken take on the Irish classic "She Moved Through the Fair" to absolutely soul-stripped versions of Will Oldham's "West Palm Beach" and Irish poet (and Liddiard uncle) Iah Duhig's devastating "The Viaduct Love Suicide."
Album ender "The Killing of the Village Idiot" also follows that path, forcing the listener to contemplate the war crime behavior of the Australian Special Forces in Afghanistan, with catharsis provided only by Liddiard's industrial strength guitar solos. With its emphasis on songs and Liddiard's unfiltered singing, Springtime actually ends up being closer to the Drones than any of the principals' other bands. Not a bad thing at all, frankly, but regardless, Springtime joins the list of great records with which Liddiard is frequently involved.