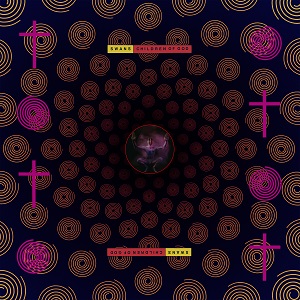 16 November 2020
When Swans first released Children of God back in 1987, it was the first of the New York rock ensemble's recordings to bring it wide attention outside of the avant-garde underground. As such, the record is a deep, rich well to which the band returns from time to time, with good reason. The record marks the point where Swans, under the direction of bandleader Michael Gira, decided to let some light and shade into the group's glorious excess, putting things like melody, acoustic instruments and dynamics into the mix.
That's not to say that the band eases up on its fondness for sonic assault – "New Mind" and "Blind Love" find Gira declaiming over the patented boom/crunch mantra, while "Sex God Sex" increases in intensity as Gira becomes more and more fervent. "Like a Drug (Sha La La La)" smacks horn sounds atop a relentless guitar grind, while co-frontperson Jarboe sings as if pollaxed and Gira moans at his most deranged. In contrast to its title, "Beautiful Child" revels in sheer pound, as Gira gnashes his teeth and tortures his larynx like a man finally toppled over the edge. On the other hand, "In the Garden" begins with piano, flute and Jarboe's breathy soprano over a lovely melody – even the electronic drone at the end stays in the friendly zone. "You're Not Real, Girl" and "Blackmail" let Gira and Jarboe, respectively, indulge in their most beautiful musical fantasies, without sounding even remotely like any kind of musical compromise.
But most of the tracks mix the two approaches, applying the often blinding intensity of the group's most extreme material to arrangements that stay within reasonable volume limits. "Blood and Honey" finds Jarboe at her most haunting, as discordant acoustic and electric instrumentation strolls slowly and deliberately across a blasted landscape. "Real Love" drones into romantic obsession, while "Trust Me" begins with acoustic folk, but shifts organically into familiar dirge-pound. "Our Love Lies" pits Gira's sepulchral croon against a twang- and slide-guitar laden threnody, like the Birthday Party on major downers – quiet and meditative, but still unsettling. Jarboe closes the record out with melodic repetition over waves of six-string distortion. Exploring religious themes, especially those that conflict with natural human behavio, Gira, Jarboe and the musicians wrestle with faith through love, pain, hate, defiance, supplication and indifference on this impressive, eclectic and frequently amazing album.
The record was first reissued in 1997, paired with the first album Gira's side project World of Skin. For this go-round, the album is instead joined by Feel Good Now, a document of Swans' 1987 European tour – specifically the 2002 version that was edited to focus solely on the Children tracks and less on the extra material included on the original two-LP set from the time. Sticklers for the original version may be disappointed, but the performances retain their near-unhinged power.