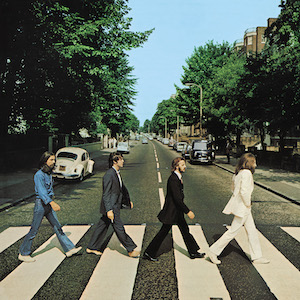 8 October 2019
Released in 1969, Abbey Road was the final album The Beatles recorded (though its predecessor, Let It Be, didn't hit stores until 1970). Now, the inevitable 50th anniversary edition of this intriguing, sometimes thrilling and occasionally unsatisfying LP offers a chance to reassess and peek behind the scenes.
The Super Deluxe edition includes one CD featuring a 2019 remix by Giles Martin and Sam Okell, two CDs of session extras and demos, and a Blu-ray containing surround and Dolby Atmos mixes.
As Giles Martin concedes in the accompanying notes, Abbey Road "sounds pretty great already," meaning he and Okell haven't taken too many liberties. Still, fans who consider remixing a Beatles album to be the equivalent of tampering with sacred texts won't be mollified by the fact that the 2019 version makes only subtle tweaks and doesn't alter the essential character of the songs.
The long medley that occupied much of side two on the original vinyl release remains a marvelous display of savvy editing, fusing dazzling vocals, spirited musicianship and mostly excellent songs, among them "You Never Give Me Your Money" and "She Came in Through the Bathroom Window." If the intent was to foster the impression The Beatles were still a working band rather than four individuals pulling in different directions, it succeeds nicely.
Elsewhere, the results are more problematic. As with The Beatles, aka The White Album, Abbey Road can feel like a compilation of solo tracks rather than a team effort. Although the execution is predictably impeccable, some lesser songs might not have made the cut in different circumstances. The jaunty "Maxwell's Silver Hammer" is another Paul McCartney throwaway in the novelty mold of "Ob-La-Di, Ob-La-Da," while the genial, albeit generic, faux-'50s ballad "Oh! Darling" gives him an excuse to howl the way John Lennon did on "Yer Blues." Lennon's sludgy, almost-eight-minute "I Want You (She's So Heavy)" may have been fun to perform, but it's turgid, however much you love John.
On a happier note, George Harrison's standout songs "Something" and "Here Comes the Sun" suggest he was done taking a back seat to his mates.
Most interesting are the two discs of previously unheard (except on bootlegs) material, with even the most mundane studio chitchat holding a fly-on-the-wall fascination. An extended "I Want You (She's So Heavy)" offers exciting organ playing from Billy Preston, who must have been inspired by Procol Harum. The demo for Harrison's adorable "Old Brown Shoe" is even more likably messy than the official B-side, and embodies the playful opposite of the solemnity that drained the life from some of his solo work. An early, disjointed sketch of the extended medley, or "The Long One," as the lads called it, underscores how much additional hard work and ingenuity went into the finished product. Two McCartney demos of hits he wrote for others – Badfinger's "Come and Get It" and Mary Hopkin's "Goodbye" – presage the low-fi charms of his first solo album.
The hefty, hundred-page book accompanying the music is an attractive achievement in itself, containing candid pictures, essays on every aspect of the album and a detailed breakdown of what went into each song. Hardcore recording geeks will be delighted; others may feel overwhelmed by the plethora of information. It's a pretty cool tome in any case.
While it's debatable whether Abbey Road needed remixing, there's no question that the pre- Sgt. Pepper works need another look. Mono was the focus on earlier albums and singles, and the stereo versions can often be quirky at best and distracting at worst. It would be great to hear the pieces of, say, Rubber Soul reassembled in a more logical way. Can we vote on what to remix next time, please?