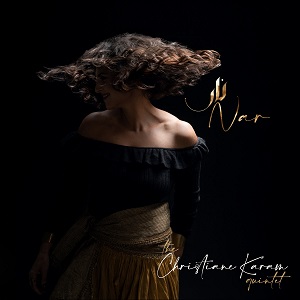 7 March 2022
Nar, the fourth album from jazz singer Christiane Karam, means "fire" in Arabic – a title directly related the 2020 bombing of the Beirut native's home city. The aftermath of that tragedy, plus a wait nearly nine years between albums and delays caused by the pandemic, inform the songs here, whether they're from the traditions of various cultures, the catalog of Antonio Carlos Jobim, or Karam's own pen. Backed by a band consisting of pianist Vadim Neselovskyi, cellist Naseem Alatrash, bassist Peter Slavov and percussionist Keita Ogawa, she sings songs of defiance, anguish and hope.
Though she's certainly entitled to anger after what happened to Beirut, her reaction seems to be much more reserved, at least for the most part. With often wordless vocals over keening melodies, Karam relates the horror of what's happened to her people – not just in 2020 but over decades – without hysteria. "Voyage," "Last Snow" and the title track (in both opening and closing versions) luxuriate in a melancholy beauty not easily attainable in the face of such tragedy. That's not to say emotions don't boil over from time to time – check out Karam's passionate singing on the dramatic "Haneen" or the free jazz crescendo, led by Alatrash, in the stunning "Beirut."
The blend of Middle Eastern and Balkan melodies with jazz rhythm and arrangements gives the music a feel that would be exotic to any culture, and it's one that puts Karam in her own accessible, genre-fluid space. There aren't many albums quite like Nar, and that's a very good thing.