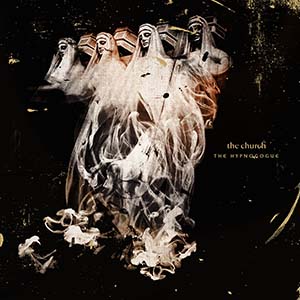 6 September 2022
More than four decades in, Australia's long-running psych-rock outfit, The Church, recently released "The Hypnogogue" (Unorthodox) in August in advance of their 26th album. With the single, a play on the hypnagogue term meaning "any substance that induces sleep," Steve Kilbey and Co. mine the realm where we're not all there and dream and reality blur (in a crusade?). It's a prevailing theme over much of their career.
Not surprisingly, this isn't the first time the prolific Kilbey has written a song with this title. "Egyptian Register" (2005) features the instrumental song "Hypnogogue", written by Steve and his brother, Russell, as part of their Gilt Trip project that has spanned two albums so far. Check this LP out here.
The Church have never been shy about creating music of a slightly longer form of six to eight minutes, going back to their first LP, "Of Skins and Heart" (Parlaphone, 1981). "The Hypnogogue", like so many other outstanding tracks before it, succeeds in this long form precisely because it doesn't seem long. It carries on mesmerizingly and you enjoy the ride, losing track of time much as you would while dozing off to sleep.
With its quiet and fragmented beginning, the song builds on a somewhat off-kilter, energetic and waltzy rhythm. Is the time signature a casual nod to their last album, "man woman life death infinity" (2017), which closed with "Dark Waltz"? Steve's typically smooth voice is a bit scratchy and delirious. The repetitive melody is mesmerizing, and the arrangement is full, with piano, a variety of guitar tracks, e-bow, and violin featuring prominently. In the end, the song rises and falls from surges to stripped down moments and back again.
The accompanying music video is an outstanding, futuristic art piece in its own right that is a compelling film in miniature. Like the song itself, it begs numerous replays.
With a refreshed line-up that now includes Jeffrey Cain (as original guitarist Peter Koppes left in early '20), The Church is out on tour in Australia this month (September).
Jeffrey recently told me a bit more about how the song came together and how it feels to play it live.
"Much of the album was written together in a week long recording session in Sydney, but The Hypnogogue was more of an exquisite corpse. When we returned home from the sessions and were in lockdown, I took drums from our live sessions and wrote the original riff guitars at my studio. I passed my recording to Tim who carved out pianos, Steve quickly wrote vocals while Ian and Ash took things further with acoustics and e-bows. It is good not to be precious with things when you are in a group like The Church. I believe we were all excited to hear what might happen if we allowed the song to guide us. Surprisingly, the live version just seemed to fall in place and is a joy to perform."
Links
"The Hypnogogue"