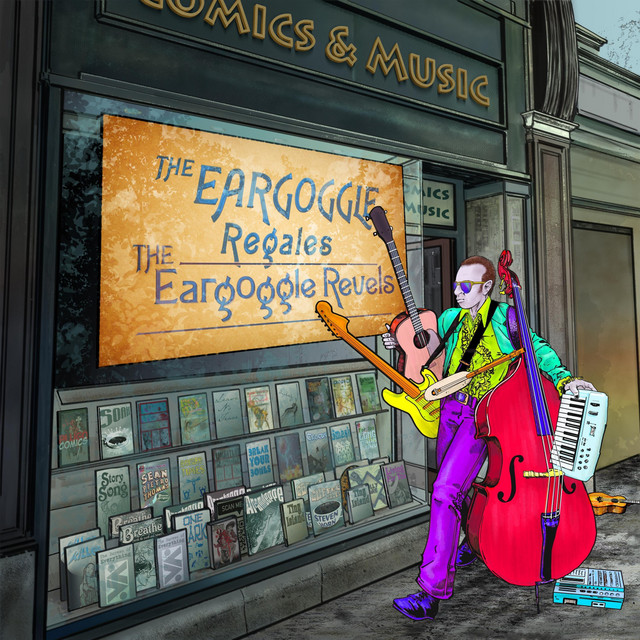 28 June 2022
Eargoggle mastermind, multi-instrumentalist, and pop savant Ezra Gale aims to break the mold and dismantle conventions with this expansive project. Double album The Eargoggle Regales, the Eargoggle Revels can be viewed one of two ways. From one perspective, it's an expansive double-vinyl set with a comic book that illustrates each of its 17 songs. From another perspective, it's a comic book rendered by top talent that has a soundtrack song for each of its vignette-sized stories. Enjoying both aspects simultaneously products optimal results. The imaginative graphic art enhances Gale's sonic sculptures, and vice versa.
The set's first LP The Eargoggle Regales includes ten songs spanning a wide span of indie rock. Overdriven synthesizer tones and Joe Abba's loping mid-tempo drum groove lead listeners past "The Garden" to the indoors, where Gale's character withdraws from the outside world into apathy and neglect. Luis Santamaria draws the singer as middle-aged anthropomorphic rat in his boxer shorts, oblivious and surrounded by squalor. Guest Dina Macabee lends a sweet but icy melody to "For Too Long," in character as someone shutting themselves off from a claustrophobic and demanding relationship. "So many others let you in, but I'm not opening," sings Macabee. Fuzz guitars sputter and spit through "Killer," making way for a psychedelic sitar bridge. Patrick Lugo's comic illustrates the lyric about a pair of androids wondering whether they're made for each other and in love or merely following their programming. With Jason Slota's motorik krautrock beat, the off-kilter "One Mark treads the line between Talking Heads, Dandy Warhols, and Gary Numan. The twisted pop of "Before Times" is reminiscent of Mark Oliver Everett's vulnerable and minimalist mini-symphonies with Eels. The song climaxes with a crashing, Zeppelinesque coda. "Crocus" sings the tale of a perennial flower. Having retreated for a few seasons of me time into the safety of mother earth, the flower promises to return to the sunlight in due time. Gale's vocal delivery suggests an affinity for Frank Black and the Flaming Lips. Lucia Stavros' vocal on "Breaking Your Bones" finds her character mustering the power and will to finally confront and defeat longstanding abuse. Fiona Oakley's artwork illustrates a young girl who has turned from fear to anger and determination. Gale colors the lighthouse tale of "On My Tiny Island" with upright acoustic bass and Mellotron, crafting the mood of a lonely sentinel. "I'm not living for you," sings Gale with more than a hint of denial during "Living for You." "Story Song" unfolds atop beat-poet bass, trash-can percussion, and Beatlesque Mellotron flute, revisiting Soul Coughing's sonic territory. Gale's lyric and Flame Ghost's art describe a torrid relationship and life on the edge, leading to a tragic end.
Second platter The Eargoggle Revels contains seven additional songs and begins with exotic and club-friendly textures. "Breathe (With the Earth and Stones)" breezes along with latin percussion, crystalline guitar chords, shimmering electric piano, and a body-moving rhythm section. Mayteana Morales sings as a once-devoted partner who took extreme measures when wronged by an abusive partner. Now, she lives a life on the run, but revels in the freedom. Intoxicating afropop textures infuse "Smash," featuring djembe and talking drum by Mamadou Sidibe. Disquieting industrial tones underscore the murderous tale "Darling, I." The "other woman" in a relationship eliminates the competition, and the lucky fella is left to contemplate the peaceful or deadly domestic life ahead. The urbane synth-pop of "Leave No Trace" unfolds as a picture of love too fast to last. "Soak" describes a faithless lover and grifter with Thom Machiyo's refined linework and the band's taut funk. "The Bureau of Everything" sets the words and warnings of Eric Snowden to music, suggesting Fela Kuti-meets-Eno and Byrne's My Life in the Bush of Ghosts. The album concludes with the acoustic guitar of "Arambeppe." It's a tale of heady nights and simple times in rustic Brazil, tragically lost to greed and industrialization.
The Eargoggle Regales, the Eargoggle Revels is a captivating, imaginative, and immersive experience. Despite having pictures to accompany words and music, the work remains impressionistic and open to the listener's and viewer's interpretation. Repeated visits are rewarding, and it helps that Gale's foundation in pop, indie-rock, and post-punk produces songs that are both caustic and catchy. Indulge, escape, and revel as necessary.