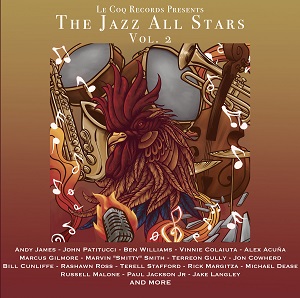 16 May 2022
In the jazz world, it's not unusual for players of a certain caliber and renown to assemble for supersessions. Minus the hype it would bring in the rock and pop worlds, these kinds of sessions can often be relaxed affairs featuring old and new friends, united by love of the music and mutual respect. Sometimes the results come out under a new band name, sometimes they're split into records headlined by various participants, or sometimes they simply slap a name like "All Stars" on the cover and call it. Regardless, these records often contain strong music, made for no other reason than pure enjoyment, on the part of both players and listeners.
Achieving liftoff last year with its successful inaugural release Vol. 1, featuring the Jazz All Stars, it's only natural that Le Coq Records would want to duplicate that milestone in Year 2. Primarily (but not exclusively) anchored by the piano and compositions of Bill Cunliffe, Vol. 2 features much of the same crew: bassist John Patitucci, drummer Vinnie Colaiuta, saxophonist Rick Margitza, guitarist Jake Langley, vocalist Andy James, percussionist Alex Acuña, among others. Newcomers here include guitarist Russell Malone, bassist Ben Williams, drummer Marcus Gilmore, keyboardist Jon Cowherd, saxophonist Chris Potter and, again, many more. (Liner notes are your friend here.) The proceedings are neither a round robin jam session, nor a big band workout, but instead a series of tightly arranged bops that give everyone a chance to shine without feeling like the players are waiting for their cues. Whether it's on originals (Cunliffe's "The Before Times" and "Whatever You Say," pianist John Beasley's "Freddie's Blues," which guest stars legendary guitarist Paul Jackson, Jr.) or on items from jazz's vast songbook (the Jerome Kern and Otto Harbach standard "Yesterdays," Horace Silver's "Doodlin'," both featuring James), the musicians display a remarkable unity of purpose. With group interplay at the forefront, everyone lays down memorable riffs and soulful solos over swinging rhythms and strong melodies, like a primer on how good mainstream jazz can sound.
Though assembled from veterans of Chicago's thriving jazz and soul scenes, the Chicago Soul Jazz Collective has a much more focused mission than the Jazz All Stars. The band's third album On the Way to Be Free states it most plainly in the title track. "I want my freedom!" asserts guest vocalist and AACM trouper Dee Alexander, and the rest of the record makes sure she gets it. On a set of songs mostly penned by bandleader/saxophonist John Fournier, the group uses the tools of soul jazz – warm keyboards, rhythms alternately swinging and funky, blues changes – to seek freedom and peace, optimistically assuming the two things aren't mutually exclusive. Sometimes it's through the act of something as simple as sailing, as on the title track, or sometimes it's in the arms of true love, as on the plush "Carry Me." The group looks even further outside themselves on the mysterious, defiant "The Man is Coming Back," but also digs deep inside on the cautiously celebratory "So Alive." Powered by Alexander's gracious singing, the songs stand up for themselves and for all of us, wrapping themselves in the CSJC's shimmering sonic wave. It's a very different vibe from the looser and more casual Jazz All Star sessions, but no less appealing for that.