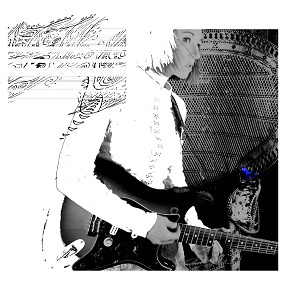 20 August 2021
It's always been a mystery why The Joy Formidable never got bigger than they are. The band's big guitar dreamgrunge has always struck the right balance between anthemic melody and ethereal noise, and they've become a festival favorite to boot. Maybe they were just a decade or so too late to catch the wave of alt.rock's initial popularity, blasting out after casual fans had turned their attention to other forms, and alt.rock radio had sunk into the era of downtuned hair metal like Creed and Nickelback. Regardless of whether or not TJF enjoyed the success that was rightfully theirs, the Welsh combo hasn't slowed down, releasing its fifth LP Into the Blue.
Anyone's who's followed the band over the past thirteen years knows what to expect here: guitars that crunch, wail and shimmer, a steady rhythm section ready to pound or swing as required, and axewoman Ritzy Bryan's forthright coo. Bryan and partner Rhydian Dafydd have refined their approach over the years, but never shifted gears – and that's a good thing, as there are few bands that do what they do so well. With such stylistic consistency, then, on TJF records it all comes down to songs – and that's another area in which they never fail. Into the Blue is jampacked with excellent tunes, from the anthemic rocker "Chimes" and the whimsical crunge "Gotta Feed My Dog" to the spacy pop song "Back to Nothing" and the psychedelic roar "Sevier." The acoustic-to-electric epic "Left Too Soon" ends the album with exactly the kind of heady rock drama in which the band expertly specializes.
In the pole position, the title track serves as a summing up, both of what to expect from the record and what TJF has honed itself into over the years. The band's dedication to its craft and vision makes Into the Blue possibly its strongest albums yet.