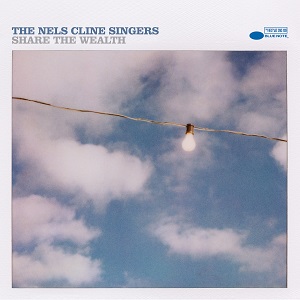 13 November 2020
The first Nels Cline Singers album in six years, Share the Wealth finds the eponymous guitarist/composer expanding his power trio once again, with saxophonist Skerik, keyboardist Brian Marsella and percussionist Cyro Baptiste joining Cline, drummer Scott Amendola and new bassist Trevor Dunn for a two-disk programme that amounts to a tribute to the jazz fusion of the early seventies.
Newly-minted sextet in tow, Cline continues down the path established on 2014's Macroscope, with a more symphonic, almost painterly approach. A Caetano Veloso cover, "Segunda" explores its melody carefully, as the musicians place their contributions with consideration of how each part contributes to the whole. "Beam/Spiral" does the same, but stretches out at a languid pace, traveling deep into inner space with deliberation instead of urgency. "Nightstand," "Headdress" and the partially acoustic "Passed Down" address ballad territory, balancing the group's generally improvisatory nature with calm meditation. "Princess Phone" recalls the Singers of old, with Cline cranking up the distortion and encouraging an aggressive attack on a funky rhythm and quirky atmospherics.
Not everything is so studiously expressed, however, with three songs improvised by all six musicians. The eighteen-minute "Stump the Panel" moves from discordant distortion to near-ambient textures, freely mixing telepathic interplay with the kind of smart tape editing Teo Macero provided Miles Davis on Bitches Brew. The snarkily titled "The Pleather Patrol" keeps its structure extremely loose, as everyone acknowledges structure but feels free to ignore it, creating playful mayhem in the style of the Art Ensemble of Chicago. The fifteen minute "A Place On the Moon" goes the furthest out, celebrating an imaginary period when early 70s fusion and late 60s free jazz came together to make sweet, sweet love.
In the publicity materials, Cline freely acknowledges the influence of Davis' early electric period, Herbie Hancock's spacy Mwandishi recordings, and very early Weather Report – a time when jazz fusion was more exploratory and avant-garde, less interested in technique and more concerned with telling stories in a way they hadn't been told before. Cline and his Singers bring that sound into the twenty-first century on Share the Wealth, putting their own distinctive spin on it for a strong release that should have wide appeal to more than just jazz fans.