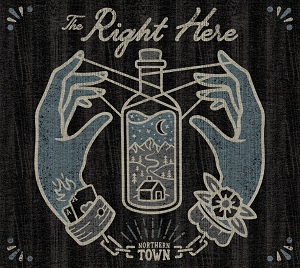 15 November 2021
For a while it seemed like the kind of rock & roll played by The Right Here – straightforward, heartfelt, drawn from the experiences of the hardworking 99% – threatened to take over the world. Bands like Lucero, the Gaslight Anthem and other punk-informed Springsteen fans were being pulled up from the underground to the world of major labels. While some of them found a measure of fame (cf. Drive-By Truckers, who kicked down the doors for college rocking cowpunks), the sure things turned out to be near misses, and life returned to normal without the mainstream being troubled by scruffy rock & rollers.
The Right Here would've fit right into that wave. The Twin Cities band has the sound, the attitude, and, most importantly, the songs. In those respects, Northern Town, the group's fourth album, has the goods. Singer/songwriter Luke Lecheler and Lewis Miller conduct a search for meaning in relationships ("Something Went Wrong With Us"), home (the title track), holiday blues ("That Gap Between Thanksgiving & Christmas"), alcohol ("Buy Me Another Round") and the search itself ("Good Luck Trying," a readymade anthem that would have made the band huge in another era). The pair conveys their intent with lyrics both plainspoken and carefully wrought, marrying them to music that makes the most of the magic of four chords and the truth.
Both optimistic and insistent, "Believe, Believe, Believe" could reek of cheese in lesser hands, but TRH strips away the emotional fat to simply lay it out there. Devoid of sentimentality but never adverse to hope, The Right Here's quest for meaning in the small things leads not to nobility, but something more profound: dignity.