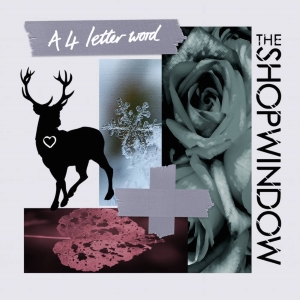 10 December 2022
I hadn't heard Kent, UK's The Shop Window (TSW) until recently while tuning into one of Jack's weekly Big Takeover radio shows. I was immediately hooked by the, well, hooks. The band's chiming guitar sound and sweet harmonies are hard to resist.
Self-described as "harmony-laden jangle/indie pop", TSW weaves in fresh interpretations of some of the best elements of other UK touchstones including Stone Roses, Mock Turtles, Blur, and an old Factory Records favorite of mine, The Railway Children, among others. I really hear the influence of REM and TSW's Carl Mann and Simon Oxlee's vocal harmonies are evocative of The dB's and Teenage Fanclub.
With all of these sterling influences, it's no wonder TSW's music is so foot-tappingly accessible on first listen. They write songs you want to commit to memory as fast as possible so you can sing along unabashedly in and out of the house.
The single "Eyes Wide Shut" opens the 10-track LP, immediately setting the tone. I was joyfully taken back to The Railway Children's "Another Town" (listen here) from "Reunion Wilderness" (Factory, 1987), before the song closes with a brief burst of "I Am The Resurrection"-esque John Squire guitars.
Label mate Beth Arzy from Jetstream Pony and The Luxembourg Signal also adds BVs on four tracks, including "Eyes Wide Shut" and "Dancing Light"; a standout track for me. The guitar tone is a perfect match to Scotland C86'ers, Close Lobsters. There's something majestic and soothing about those simple words angelically harmonized in the chorus.

Owing to the album's depth, later tracks are particularly good. "That Feeling" is a superb pop song, and here the vocals channel Chris Stamey and Peter Holsapple, while guitars are set on Peter Buck.

The album secures its strength on the penultimate track, "Maid of Stone", named as a play on the band's hometown of Maidstone, Kent. As Carl sings,
"It's in this place where we began
Here we walk before we ran
It's where all mistakes were made
Thanking God, it's not the same."
The town's origins go back to Mesolithic times, which is the Middle Stone Age for those of us playing along. Imagining this may be beyond our comprehension, but as Carl sings, "Restless nights and waking dreams, sheltered by a maid of stone", you get the sense he's trying to wrap his head around it.

Links