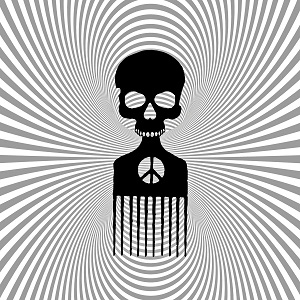 11 November 2022
The career of the Chavis brothers (singer/guitarist Daniel and guitarist Danny) is a testament to the philosophy of never giving up. Their long-running band the Veldt (and its sidebar Apollo Heights) has had a long and often frustrating history, starting in the late eighties in Raleigh, NC, and moving through major labels (Mercury released the shoegaze classic Afrodisiac), indie labels, a New York residency, and long stretches of silence. But the group – now consisting of the Chavises, stalwart bassist/multi-instrumentalist Nakao Hayato, keyboardist Micah Gaugh and drummer Dan Milligan – has been particularly active in the last five years, issuing a handful of singles and EPs. It's all led to this: Entropy is the Mainline to God, the first full-length album under the Veldt name since 1998. And it's a doozy.
The band originally attracted notice for being a shoegaze act created and operated by African-Americans. After thirty-plus years, that seems like it shouldn't matter, but as anybody with access to a television or the internet in the past five years has noticed, race still matters, and the Veldt leans into it. The blasting rock of "New Blood" addresses the issue head-on, with subject-appropriate samples and a raised fist. That spirit drives much of the rest of the LP, from the equally blazing "Electric Revolution" to the industrialized "Requiem For Emmett Till" and the psychedelic "Slave Ship Serenade." The group's acid pop version of Curtis Mayfield's *Impressions*-era gem "Check Out Your Mind," while boasting a more positive vibe, fits right in.
The band also explores other thematic avenues, as on the appropriately-titled dream popper "Sweeter," a hazy "interpolation" of hip-hop group Mobb Deep's "Get Away," and the shoegaze/trip-hop mashup "Walk With the Spirits." But the album is best summed up by the anthemic "Soul Power," demanding awareness, celebrating defiance, and extrapolating hope for the future. Thirty years on from its first record, the Veldt has with Entropy is the Mainline to God made its most compelling album yet.