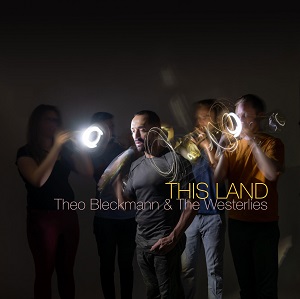 29 January 2021
This Land brings together iconoclastic musical minds that intersect in the jazz world: vocalist Theo Bleckmann and brass quartet the Westerlies. Bleckmann's elastic tenor has graced everything from Weimar cabaret revues to Meredith Monk, Ben Monder and Kate Bush projects to the sound design for the film Men in Black. That breadth makes him an ideal collaborator for the Westerlies, who are not known for respecting genre-imposed musical boundaries.
The program here includes material from Woody Guthrie, Bertholt Brecht and Joni Mitchell, among others, plus a handful of originals. Without a rhythm section and with a horn line of trumpets and trombones, there's little traditional drive to the arrangements, leaving it up to Bleckmann's soaring singing and the musicians' ringing harmonies to drive the tunes forward. This leads to atmospheric moments like the haunted cover of "Wade in the Water," a lovely take on Mitchell's "The Fiddle and the Drum," and beautiful originals "Another Holiday" (written and sung by Bleckmann) and trumpeter Riley Mulherkar's "Looking Out." The Guthrie covers ("Two Good Men," "Tear the Fascists Down," "The Jolly Banker," "I Ain't Got Not Home in This World Anymore") tend to be peppier, and, interestingly, are all performed as instrumentals.
The Guthrie tunes also indicate a protest theme going on, a notion reinforced by the mournful version of Brecht's "Das Bitten der Kinder" ("Requests from the Children") and a fairly straightforward run through "Look For the Union Label." Most protest records lean toward passionate anger or seething bitterness – you won't find too many as eerily sonorous as This Land.