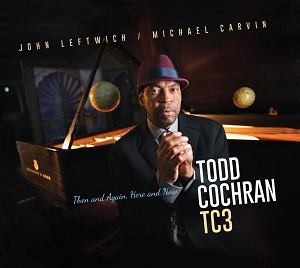 16 June 2021
Musical trainspotters might know keyboardist Todd Cochran better as Bayeté, the multi-disciplined musician who provided tunes and keys for artists as disparate as Santana, Bobby Hutcherson, Julian Priester, Peter Gabriel and Stanley Clarke, not to mention fronting the distinctive but doomed prog/fusion/funk band Automatic Man in the seventies. Under his real name, he's composed a ton of soundtracks, as well as some classical music, but has made only a handful of jazz records. Then Again, Here and Now is the latest, a collection of standards in the classic piano trio format.
What makes the record stand out isn't just the confident swing of the band (bassist John Leftwich, drummer Michael Carvin) or the easy melodicism of the leader. It's also the thought put into the programming. For example, the album opens with "Softly, as in a Morning Sunrise," a standard whose origin goes all the way back to the twenties. That's immediately followed by back-to-back appearances of two Gershwin songs – "A Foggy Day in London" and the megahit "I Got Rhythm" – to form a mini-suite of early pop songs that helped shape the jazz landscape. There's also a triptych of tunes inspired or composed by Duke Ellington – the original "Verselet For the Duke,' followed by pianist Dave Brubeck's tribute "The Duke," and concluded by Ellington's timeless classic "Don't Get Around Much Anymore." Cochran forms another pod by showcasing his classical training with a jazzy version of Bach's "Fantaisie – Prelude XX" (from Book II of The Well-Tempered Clavier), segueing into the luminous "April in Paris," and bookending both with Leftwich's improvised bass solos.
A lovely solo version of Michel Legrand's "You Must Believe in Spring" creates a bridge to the (relatively) modern compositions of Thelonious Monk ("Bemsha Swing," featuring a cool arco bass solo) and Cochran's old employer Hutcherson ("Little B's Poem"). Cochran then brings it all back to now by closing the record with the title track, a tuneful (and all too brief) original piece. Then Again, Here and Now isn't just a collection of tracks meant to reintroduce Cochran to the jazz audience – it's a narrative arc telling the story of the music that inspired Cochran to become the artist he is.