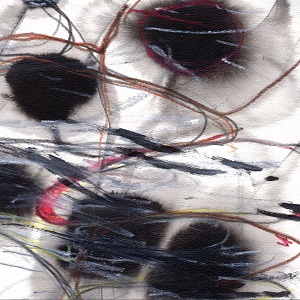 6 January 2022
Saxophonist Tony Malaby is one of those stalwarts that's played with tons of his peers and inspirations (including Paul Motian, Charlie Haden and Tim Berne) for decades without becoming well-known under his own name. Of course, one doesn't play jazz – especially free jazz – for the money and fame anyway, and not having a sales threshold to live up to means he can do records like this one. Inspired by a series of outdoor performances Malaby organized with his friends in order to stay sane during the pandemic, The Cave of Winds recruits longtime compadres bassist Michael Formanek, who played on Malaby's 2000 leader debut Sabino, guitarist Ben Monder, with whom Malaby played on the 2021 record Live at the 55 Bar, and drummer Tom Rainey, who performed on both Sabino and 55. Unsurprisingly, these four old pals have chemistry like Linus Pauling, able to ramble through the leader's free-flowing compositions without losing sight of each other's contributions.
"Insect Ward" begins with tornado-like soprano sax from Malaby over menacing arco bass from Formanek, spastic fingerings from Monder and free playing from Rainey, before locking into a riff that wouldn't sound out of place in 1990s Seattle. Speaking of guitar distortion, Monder's soaking in it for the intro to "Scratch the Horse," a knotty composition that retains a rock feel without ever taking on a rock form. "Just Me, Just Me" finds Malaby and Monder spiraling around each other like Qawwali singers, soaring over the rhythm section's furious shiver. The entire band stretches out, way out, on the nearly nineteen-minute title track, pushing and pulling on the melody in a remarkably relaxed way without snapping it.
It's unlikely The Cave of Winds will raise Malaby's profile outside of jazz fanatics. But it certainly reminds even them of the freedom in his playing, the impressiveness of his vision and his high taste in friends.