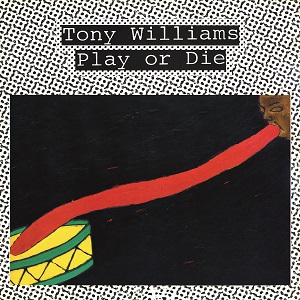 21 July 2022
Late jazz drummer and composer Tony Williams is a legend, a pioneer of a new style of drumming in the genre and a bandleader with a widescreen vision of what jazz could be. His career as a leader is best known for two periods: his innovative fusion records from the 1970s and a series of acoustic jazz records for Blue Note in the eighties and early nineties. But that's not all the music he made, as Play or Die illuminates.
The product of a quick session by a short-live touring outfit that mainly performed in Europe, Play or Die was originally released in 1980 in Germany in an edition of 500 copies, forgotten even by its creators. One listen shows that to be unfair. Joined by keyboardist Tom Grant (before his smooth jazz stardom) and bassist Patrick O'Hearn (then known as a Frank Zappa vet and not yet as a founding member of Missing Persons or a new age music star), Williams lays down tracks unlike anything he'd done before or since. While he's capable of some fleet-fingered soloing, Grant is more of a texturalist than a ripper, adding soaring synth beds and spacey atmospheres that walk a thin but firm line between progressive rock and new wave. O'Hearn, who also composed two cuts, acts as anchor here, his skillful playing providing steady grooves and the occasional rubbery solo.
As the leader, Williams keeps his drums high in the mix, but not obnoxiously so. Indeed, it's his distinctive style – aggressive yet graceful, forceful but tasteful – that drives the music forward, reinforcing who's in charge here. The leader's "Para Oriente" and O'Hearn's "The Big Man" make for impressive calling cards, but the musicians really hit their stride on "Jam Tune," a spontaneous composition that puts all of this combo's virtues into one sturdy, beautifully woven basket. Play or Die is a strong record that casts a much-needed light onto a shadowy corner of a jazz icon's oeuvre.