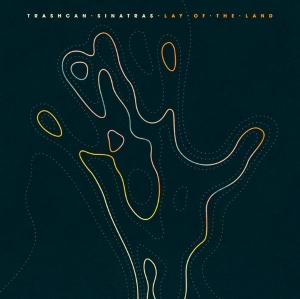 25 November 2022
I vividly remember discovering Scotland's Trashcan Sinatras. I was reading The Big Takeover and Jack Rabid's glowing review of their second LP, "I've Seen Everything" (Go! Discs, 1993) caught my attention. As so often was the case well before the Internet, after reading about a new band (for me) in the magazine I bought the album without even hearing a note simply on the strength of the review.
Thirty-plus years on, I'm still a massive fan. The Trashcans take their time but they continue to release superb music. A recent standout for me is 2020's "The Closer You Move Away from Me" single (see the video here), which by title alone gives you an idea of the clever ways that singer Frank Reader crafts his lyrics.
Over this past summer, TCS released a lovely digital-only single, "Lay of the Land" and the great news for fans is that it's just now been re-released in a physical-format EP (12" orange vinyl or CD) with three bonus b-sides.
1. Lay Of The Land
2. There's a Shadow
3. A Stone's Throw From Paradise
4. The Midas Touch
The lead track has a light and bouncy rhythm that is pure Trashcans. It's pop music, but it has depth, both in terms of musical arrangement and lyrical content. Its orchestral melodies chug along with jangled guitar accompaniment and before it's over the song sounds familiar yet fresh.
"There's A Shadow" has elements of those early days in the band. It strongly reminds me of "Easy Read", the lead track off the amazing "I've Seen Everything" LP that Jack raved about nearly 30 years ago. Like so many TCS songs, you get carried away by the beauty of the music and Frank's gentle, earnest vocals. And then you catch yourself singing along to a dark phrase like "there's a shadow hanging over me" and realize this song is not an anodyne pop confection.
"A Stone's Throw From Paradise" is more of a polished demo, and not to its detriment. It's full-fledged enough, in under two minutes, especially when the Hawaiian-infused strings seep in and lend a tropical getaway vibe.
The EP's closer, "The Midas Touch", is another stunner. The simple acoustic guitars with Frank's dreamy vocals are all that's needed, but additional accompaniment with gentle percussion, keys, and even a bit of saxophone all adds a slow-burning dimension to this little gem.
Links