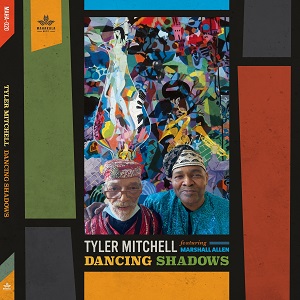 27 January 2022
Tyler Mitchell has held down the bass chair in the late Sun Ra's still-extant Arkestra since 2011 – a continuation of his original tenure in the eighties. The mainstay for all those decades, and those prior, was and is woodwinds master and current Arkestra leader Marshall Allen. So when Mitchell decided to create his next solo album Dancing Shadows, he naturally drew on his connections, recruiting his employer and bringing in a set of Ra compositions in the bargain, as well as a*Thelonious Monk* tune and a fresh batch of originals from the pens of himself and alto saxist and Allen protegé Nicoletta Manzini.
Like his former boss, who pushed jazz to its outer limits but always made time for the old-school Fletcher Henderson arrangements he loved, Mitchell swings wide here, as comfortable with the squealing free jazz of the title track and "Carefree" as with the swinging bebop of "Enlightenment." and "Interstellar Low Ways." Of course, even the latter pair come infused with Allen's trademark chaos, as the ninety-seven-year-old ain't content to just reiterate his old horn lines. Mitchell pays tribute to Allen directly with "Marshall the Deputy," letting his elder off the leash even more than on the Ra tunes. The bassist also gives Manzini nods, not only through incorporating her tunes "Space Travellers" and "Spaced Out," but by writing songs of his own in her honor, including the lovely "Nico." The group's take on Monk's "Skippy" underlines the similarities between the eccentricities of both pianists (Monk and Ra).
It might be argued that there's more of Ra's personality than Mitchell's on the record, given the preponderance of Arkestral atmospheres. But outside of Allen, there aren't many folks who can successfully take on that aesthetic, and besides, the challenging idea of distilling Ra's avant big band arrangements through the lens of a small combo is itself a valid artistic choice. Whether you consider it a copycat or a continuation of Sun Ra's vision, Dancing Shadows fulfills the hunger for way out there space jazz.