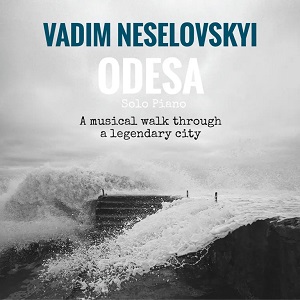 14 June 2022
Born in Odesa, Ukraine, pianist/composer Vadim Neselovskyi had been planning for a few years to do a solo piano travelogue through the streets and history of his beloved hometown. It took a while to write, rehearse and workshop, which means that the release of Odesa is now more important – and timely – than ever. With Russia's continuing assault on Ukraine – part of a long history of abuse from the Ukrainians' neighbor, of course – now is the time for artists to remind us of the beauty and magic to be found in their homes. To that end, the Berklee-trained musician blends his two disciplines – jazz and classical – into a series of musical poems paying tribute to Odesa's landmarks and historical occurrences alike.
Neselovskyi salutes the iconography of the "Odesa Railway Station" and the city's beloved "Acacia Trees," while also observing the double-edged sword of "Potemkin Stairs" – the scene of one of the most memorable and disturbing images in cinema, thanks to Battleship Potemkin – and "Winter in Odesa," a cold and snowy time of year that makes the city beautiful but also unsafe to walk through. He wrestles with the effect of the Holocaust on the Jewish population of his city in a suite of songs, "Odesa 1941," "Intro to Jewish Dance" and "Jewish Dance," that explore the extremes of fear, violence and reprisal, as explained in his liner notes. But Neselovskyi also turns personal, recalling his acceptance into conservatory training with "Waltz of Odesa Conservatory" and "My First Rock Concert," an event as much about freedom (the city hadn't been able to host such things until after the fall of the Soviet Union) as musical inspiration. He closes the program with "The Renaissance of Odesa," finding faith and optimism in the rebuilding of his town's lost churches and synagogues, even as Russian aggression threatens to take it all away again.
Rather than through rhetoric and polemic, Neselovskyi chooses to make his statement about Ukraine's suffering through this expression of hometown pride. Whether or not Odesa will sway hearts and minds on a political level, it certainly makes the case on a cultural one, and that in itself connects us directly to compassion, a quality sorely needed in the twenty-century. Let Vadim Neselovskyi take you there.