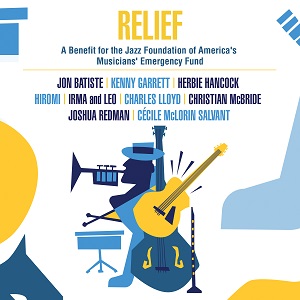 1 December 2021
While the wheels of government ground through the usual bureaucracy in order to provide aid to struggling citizens in the wake of the coronavirus pandemic, the Jazz Foundation of America started the Emergency Relief Fund to help suddenly unemployed musicians all over the country. In fact, it continues to do so in the wake of the long road to financial stability musicians – particularly jazz musicians, who don't get the returns that pop, rock and country players do from record sales and arena tours – face during the pandemic's ebb and flow.
An unprecedented collaboration between major jazz labels, Relief aims to raise money for just that by collecting new and previously unreleased tracks from several well-known jazz artists. The set blends contemporary stars with elder statesmen, beginning with the shimmering, trippy "Back to Who," from IRMA and LEO, AKA singer/bassist Esperanza Spalding and her frequent musical partner, keyboardist Leo Genovese. Like that pair, bassist Christian McBride ("Brother Malcolm"), saxophonist Kenny Garrett ("Joe Hen's Waltz") and pianist Hiromi Uehara ("Green Tea Farm") produce tracks that prioritize accessible melody over hard swing. Singers Cécile McLoren Savant and Jon Batiste deliver low-key but soulful takes on old classics "Easy Come Easy Go Blues" and "Sweet Lorraine," while saxophonist Joshua Redman leads his chordless Still Dreaming quartet through the knotty but tuneful "Facts." Accompanied by his current band Kindred Spirits, saxophone legend Charles Lloyd contributes a live, boundary-stretching version of "Lift Every Voice and Sing," the gospel standard that's become a staple in Lloyd's repertoire.
The record ends with jazz keyboard giant Herbie Hancock leading an all-star band through a hard bopping live take on late saxophonist Jimmy Heath's Clark Terry associated tune "Gingerbread Boy," featuring Heath, his drummer brother Albert, bassist Buster Williams and, most poignantly, trumpeter Wallace Roney, who himself died of COVID. It's a capper on a collection of music strong enough to make Relief of interest even without the specter of the pandemic's effect on players' livelihood. But with the added bonus of the album's proceeds guaranteed to make real change in some people's lives, how can you resist?