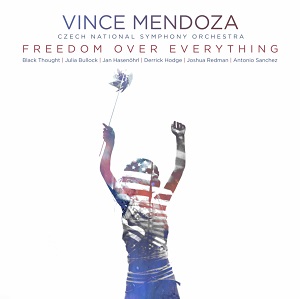 1 July 2021
A modern-day proponent of the classical music-jazz fusion that was once called "third stream," composer Vince Mendoza has never lacked for ambition. In addition to numerous works that straddle the line between tight composition and loose improvisation, Mendoza has done arrangements and orchestrations for everyone from Elvis Costello, Sting and Bjork to Robert Glasper, Diana Krall and Al Jarreau. Inspired by the last several years of national crisis and political turmoil, Freedom Over Everything finds him using the Czech National Symphony Orchestra as the main vehicle for his compositions, with guests drawn from other musical worlds.
The extra musicians don't distract from the orchestra, either, instead fitting their own styles and sensibilities into the work and letting the classical ensemble hold center stage. Pat Metheny drummer Antonio Sanchez provides his distinctive rhythmic genius throughout the seven-part "Concerto For Orchestra," particularly on the dynamic, exciting third section "Hit the Streets." Sax star Joshua Redman contributes his creamy tone to part 4, "Meditation," showing the way for the woodwind section, while sixth part "Freedom Over Everything," a section inspired by George Floyd's murder, features jazz bassist Derrick Hodge and Roots rapper Black Thought. Soprano Julia Bullock adds spectacular vocals to the beautiful non-concerto piece "To the Edge of Longing."
The CNSO distinguishes itself on its own with "American Noise" and "Consolation," parts one and two of the concerto, as well as the powerful, nearly-sixteen minute album closer "New York Stories." The purely orchestral tracks feature little to no improvisation, of course, but still retain a looseness that comes from Mendoza's jazz feel. A remarkable piece of work, Freedom Over Everything earns wide appeal not only to jazz and classical fans, but anyone with open ears and mind.