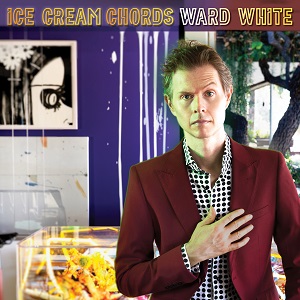 1 December 2022
It may not be in vogue at the moment (or ever again), but guitar pop – that specific style of rock & roll that relies not only on six-strings but also on wit, melody and a dedication to passing smart bombs through the security gate via accessibility – endures. It just does so out of the spotlight these days, which makes a lot of great artists easy to miss. Case in point: Ward White. The Los Angeles singer/songwriter/guitarist has made it to album #14 without causing much of a ripple on the surface of popular acclaim, and given the high quality of his work, that's both a shame and a mystery.
Take "Mezcal Moth," the fourth track on Ice Cream Chords. The tune borders on winsome, mixing in an almost disco groove on the bridge. Meanwhile, White injects references to drugs, Zapatistas, the 24-hour news cycle, and anything else he finds interesting in the moment, all of it in an almost casually engaging package. Brilliantly reminiscent of the Cars' new wave pop majesty, "Rumors," meanwhile, takes on the effect of its titular occurrence on people's lives with wry humor and sharp hooks, while "Shorter" adds some resigned social commentary. As might be suspected by its title, "50,000 Watts Ago" piles on allusions to various songs, scenes, and artists, making it a trainspotter's delight even as its tune massages the ear.
Funny lines married to superior melodies ("What kind of monster doesn't tip?/No, that's a soul that's irretrievable" in "DeSoto"), consistent use of musical metaphors (from the delightful "Like a Bridge": "Gimme a bridge with a moving bassline/Counterpoint can cover a multitude of sins"), and an easy facility with spoonfuls of sugar making the meds go down ("Please assure the babysitter there's nothing here of value/Will this take long?" from "Born Again") mark White as a marvelous lyricist. Put his wordsmithery with his tunesmithery and you've got an instantly winning combo, one that's in full effect on Ice Cream Chords.