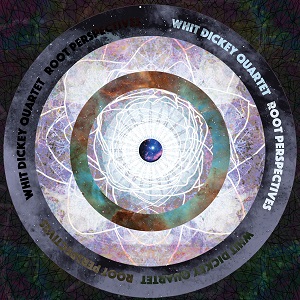 20 October 2022
Drummer/composer Whit Dickey has been on a big roll the last few years, opening up his TAO Forms label and releasing several stunning free jazz records. Roots Perspectives is the latest in the series. Joined, as usual, by pianist Matthew Shipp and bassist Brandon Lopez, Dickey adds a new face to his ensemble: saxophonist Tony Malaby.
The album is divided into two parts. The first half represents the perspective of falling apart, as the chaotic cacophony of "Supernova" and the almost deliberate path of destruction running through "Doomsday Equation" makes perfectly clear. Here Dickey uses his aggressive drumming to drive the band towards a sort of violent entropy, as he and Malaby lay waste to their surroundings like forces of nature, leaving Shipp and Lopez to sweep up the dust. Part two, however, flips the coin, as the final tracks represent the new growth that can come from the wasteland. It's not always easy – in "Swamp Petals," the organisms slowly but surely poke their heads out of the muck, only to encounter resistance. Though from the aural violence it sounds like it comes at a cost, the intransigence is overcome, and the new life gets on with the messy business of picking up the pieces for "Starship Lotus." Nothing comes easy, but, with Shipp's excitable piano, Lopez's steady bass, Malaby's frenetic saxophone, and the leader's energized drumming, life, as it does, finds a way.
After decades as a top-flight musician, composer and bandleader, Dickey seems to be reaching a new prime. So it's only appropriate that Roots Perspectives uses its spontaneous composition to simulate that growth.