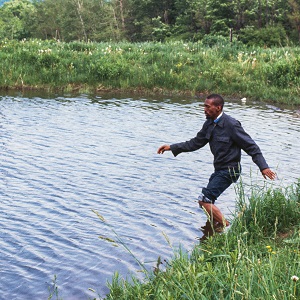 17 June 2022
The tale of composer Julius Eastman isn't a happy one. Being black, gay and avant-garde in his compositional style didn't endear him to the classical music establishment, despite being a visionary artist with a distinctive aesthetic and a bold outlook. He had some success – his score Eight Songs For a Mad King was recorded and released in 1973, and various other pieces would be performed over the course of the seventies and eighties. His associations with Meredith Monk and Arthur Russell also kept his music in the public eye. But his rightful unwillingness to hide who he was and how he behaved burned as many bridges as they built, and the difficulty of interpreting his scores with the direct assistance of either himself or people who've worked with him kept him from reaching the heights his talent obviously deserved. He died in 1990 at only 49, nearly forgotten – obscure enough that his obituary didn't appear until nine months after his passing and some of his most important work hadn't yet been performed or recorded. .
Fortunately, in a classic case of "if you know, you know," there are musicians and artists dedicated to keeping his music alive. Los Angeles' eclectic contemporary classical ensemble Wild Up and its artistic director Christopher Rountree are, fortunately, on that train. The second in a planned seven-volume series dedicated to Eastman's compositions, particularly those not performed in his lifetime, Julius Eastman, Vol. 2: Boy Joy showcases the earmarks of the composer's style: repetitive figures, deliberate clashes between melody and harmony, long passages of quiet and serenity contrasting with vibrant tension, playful confusion.
"Joy Boy" opens the record with flutes and baritone saxophone playing thrumming riffs, as a choir mouths nonsense syllables, filling up the air like a flock of birds. The whole piece vibrates like rain on a metal roof. "Buddha (Field)" masses strings, brass, woodwinds and organ into a wall of ambient sound, the kind with shifting textures that create movement even without any traditional rhythm instruments. The group strips everything down for the two part "Touch Him When," leaving the music solely in the hands of guitarist JiJi. On the "light" version, she artfully blends regular and baritone guitars for a sparse, airy arrangement that's like a painter adding thoughtful brush strokes to a mostly white canvas. The "heavy" version, however, lays on the distortion in thick waves, while still maintaining the virtues of empty space around the grunge.
In fact, it's the next track that really cranks up the dissonance. "Buddha (Path)" crashes into the world in a storm of strings, but that's not the full story. By the end of the piece horns and strings have settled into an atmospheric drone, allowing baritone saxist Martha Tiesenga to bring the piece home with hums, buzzes and murmurs of her own. The song cycle ends with the effervescent "Stay On It," a circular riff that lets the instruments off their leashes to more fully express the sheer pleasure of expression. With the choir singing the title phrase at intervals, "Stay On It" is a burst of joy and positivity that sends the band and the listener out into the world on wings of alacrity.
Eastman's story may have ended on a sad note, but he understood that you have to kick holes in the darkness to find the daylight. Boy Joy takes us on that journey, and Wild Up proves itself the perfect interpreter for one of contemporary music's most quixotic compositional architects.