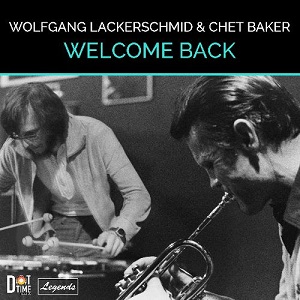 13 December 2022
For a lot of fans, Chet Baker's European years, which were the last of his life, remain a mystery. Did he disappear down a black hole of drugs and struggle, until his reappearance in the acclaimed 1988 documentary Let's Get Lost? Not exactly. While his addiction would remain a factor to the end of his life, the reality is that Baker entered a prolific creative period in the old world, including an ongoing collaboration with German vibraphonist Wolfgang Lackerschmid. Welcome Back presents the duo's third LP together.
Recorded less than a year before Baker's death, the pair – along with a set of skilled German sidepeople – work through nine of the vibist's compositions, clearly written and arranged with Baker's distinctive trumpet style in mind. Cuts like "Why Shouldn't You Cry," "Waltz For Berlin" and the title track take full advantage of Baker's sweetness and light, while friskier tunes a la "Try It Dry," "Gloria's Answer" and "Volta Trais" remind folks that Baker had more in him that just balladry. While the jazz legend's name may draw listeners to the record, it's worth reminding them that the other musicians make vital contributions, with Lackerschmid, bassist Gunter Lenz and flautist/guitarist Nicola Stylo being key to the music's success.
In some ways, Welcome Back is what one might expect from a Baker album, particularly in its relaxed, late night vibe. But filtering Baker's style through the confident artistry of Lackerschmid gives the album a distinctive, refreshing atmosphere all its own.