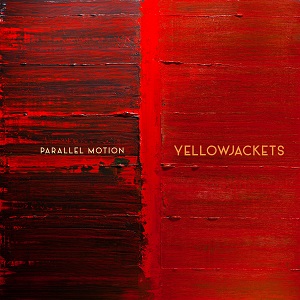 26 August 2022
For a lot of fans, the eighties were a rough time for jazz fusion. The aggression of rock had been replaced by the rubbery feel of funk, and while jazz-funk was hardly a new thing (cf. Herbie Hancock and the Crusaders, jamming away right alongside Miles Davis, Tony Williams and the Mahavishnu Orchestra), somewhere along the way the rhythms softened, the grease drained away, and the music evolved into something to be heard in the background while shopping for business clothes. The shudder-inducing term "fuzak" was coined.
But not every group from that era devolved quite so numbingly. By virtue of rhythmic variety and a love for melody that doesn't just do the bare minimum, Los Angeles' elegant Yellowjackets have not only survived their era but thrived. Though forming in 1977 to back Robben Ford and releasing their first record in 1981, the band has, if anything, gone from strength to strength since then, putting out some of its best work out in the twenty-first century.
Case in point: the quartet's latest record Parallel Motion. Though there's little here that would rattle the windows, that doesn't mean there isn't plenty going on, with complex tunes, intricate arrangements and strong ensemble playing. Check out "Challenging Times," composed by keyboardist and founding member Russell Ferrante, which cleverly rearranges a descending melodic figure that builds intensity through which saxophonist/mainstay Bob Mintzer and bassist/relative new kid Dane Alderson shine. The bassist's epic "Onyx Manor" shapeshifts its way through bop, funk, prog rock and anything else that strikes the composer's fancy, putting longstanding drummer William Kennedy through his paces and letting Ferrante color the piece in a variety of vintage electric hues. Ferrante's "Il Mio Amico" leans toward the sweeter side of the band's sound, but Mintzer's snake-winding soprano keeps the arrangement from getting syrupy. When given the compositional reins, the horn man's "Intrigue" and "Resilience" show that he has a superior sense of how to make a tune interesting while still keeping it accessible. The entire proceeding benefits from the nimble Kennedy, who seems to have never met a rhythm he can't bring to vivid and vigorous life.
Though the record feels tightly conceived and executed, the soft rocking vocal ballad "If You Believe," written by Ferrante and guest-starring singer Jean Baylor, interrupts the album's flow. But no matter; the high quality of the rest of the record makes the song feel more like an anomaly than an outright mistake. It's certainly not enough to negatively impact one of the stronger fusion records of the 2020s so far.