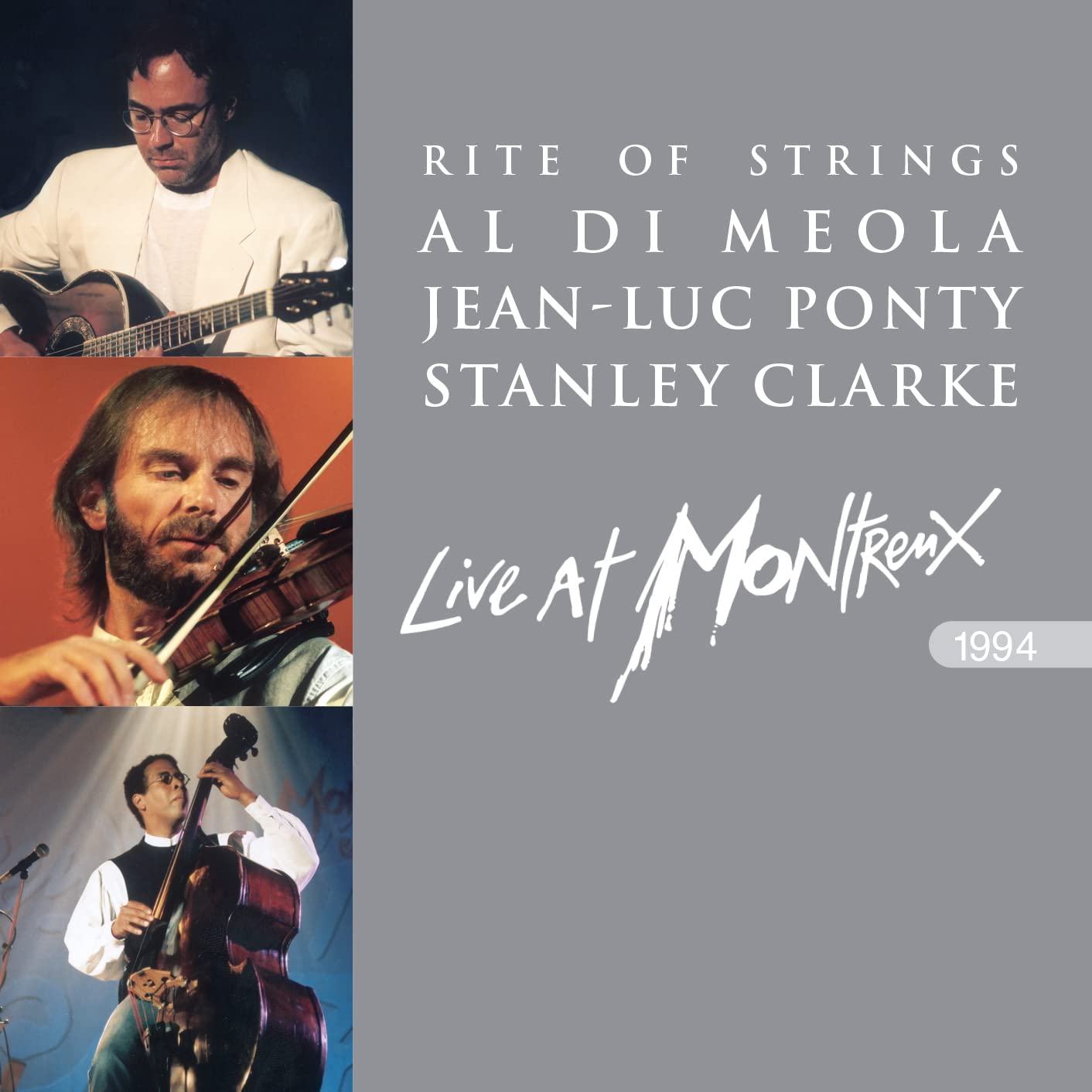 2 February 2023
This live set captures a summit meeting of iconoclastic musicians as it happened nearly 30 years ago at the famed and influential Montreaux Jazz Festival. The concert predates and foreshadows a classic album for fans of '90s fusion. Return to Forever founder and fusion bassist Stanley Clarke, French jazz violinist Jean-Luc Ponty (veteran of Mahavishnu Orchestra and Frank Zappa's band), and lightning-fingered jazz guitarist (and Clarke's former Return to Forever bandmate) Al DiMeola performed together for the first time during this set. Following an international tour, the trio would release the acclaimed studio album The Rite of Strings in the summer of 1995. Six of that album's nine songs are heard here in their debut public airings. "This is fun," says DiMeola before beginning Clarke's lyrical and moody "La Cancion de Sofia." The joy of interaction and improvisation is evident throughout the performance. The result is evident in the stature that The Rite of Strings continues to enjoy among the three principals' expansive catalogs.
The set opens with Clarke's "A Song to John," unspooling to nearly 13 minutes. Each of the players has time to shine with dazzling solos. DiMeola's fire, speed and musicality are on full display with his acoustic guitar as he leans into his affinity for flamenco and Spanish-styled guitar textures. Ponty sticks to the unadorned sound of his acoustic violin, playing with joy and free-spirited melody. Clarke grooves, slides, and underpins the trio, but steps forward with astonishing dexterity on fretless bass. The trio play with no percussion; DiMeola and Clarke keep the set rocking with their sharp rhythmic sensibilities.
Mid-show, the players each step under the spotlight for individual songs alone. DiMeola plays the complex but fluid "Summer Country Song," incorporating synthesizer treatments into his acoustic playing. Clarke offers his fusion master class during the title cut from his 1976 solo album "School Days," running through the gamut of sounds and fingerstyle bass techniques including his trendsetting slap style. Ponty's "Eulogy to Oscar Romero" is drawn from 1983 album Individual Choice, using delay effects and pitch shifters to craft mesmerizing textures with his single instrument.
Some of the songs like Ponty's "Memory Canyon" and Clarke's "La Cancion de Sofia" were built for the trio and this live performance. Others are drawn from the individual players' catalogs and given fresh interpretations. "Song to John" appeared on Clarke's Modern Man in 1978. "Eulogy to Oscar Romero" is taken from Ponty's 1983 album Individual Choice. The players intertwine as the music takes dizzying flight during DiMeola's "Chilean Pipe Song" from his then-recent 1994 album Orange and Blue. The song was among those to appear again on the trio's studio album.
The main set concludes with a second performance of opening number "Song to John" and another first-time collaboration, as pianist Monty Alexander adds vibrant color to the arrangement. The show closes with an encore of DiMeola's Heart of the Immigrants track "Indigo," with synthesis effects used to double DiMeola's guitar as a flute. DiMeola trades spirited and lighthearted lines with Ponty's violin. The song would soon become the opening track on studio album The Rite of Strings.