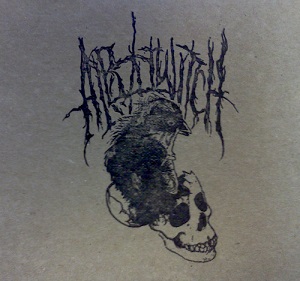 21 January 2014
In Pennsylvanian folklore, the Albatwitch is a small Sasquatch-like, apple-loving creature rarely seen around Chickie's Rock on the outskirts of Columbia, PA. Taking inspiration from these outcast ape-men, Brian Magar (LAYR, Pyroclastix) and TimeMOTHeye (Stone Breath, Crow Tongue) collaborate on their debut album, a powerful subversive statement made with Appalachian/minstrel folk, harsh noise and black metal.
Only Dead Birds opens with "Die Gedanken Sind Frei," a banjo-fueled traditional song whose German refrain translates to "the thoughts are free." As TimeMOTHeye intones in his signature droning monotone, the music simultaneously recalls medieval Europe and hillbilly Appalachia, a trait that continues through the more folk-oriented tracks. "Break Apart" follows with a blast of harsh noise reminiscent of Magar's days in Pyroclastix. "Beneath the Flood," however, delivers some stark, sinister black metal with an
Akitsa
vibe. And so the album continues in this unpredictable manner, shifting abruptly from one mode to the other while somehow remaining consistent, especially in the message, which blatantly condemns the powerful's exploitation of the weak and misuse of of natural land. In "The Gods and the Apes"
Voltairine de Cleyre
's poem, "The Gods and the People," receives a treatment similar to "Asylum" by
Crass
, while "Frack-ture" condemns the destructive method for obtaining natural gas through the testimonials of those who have suffered from it. This isn't some bourgeois philosophical meeting – this is all out war.
Truth be told, Albatwitch is the perfect name for this innovative duo. The creature lives outside of mainstream society by its own codes and its own laws, only asking to be left in peace lest he be corrupted by the decadence of the outside world. It sounds like a nice place to be, without Kardashians and Afghanistan and school shootings. Enter the Albatwitch's world and consider whether you really want to return.