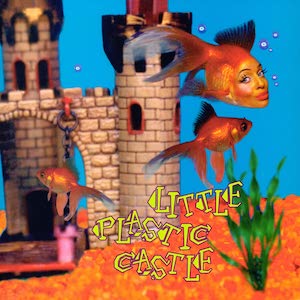 11 November 2023
The 25th anniversary of indie folk-rocker
Ani DiFranco
's eighth and top-charting album
Little Plastic Castle
is celebrated with its first-ever vinyl release. On the heels of a hot, career-spanning live album in 1997's
Living in Clip
that brought many new fans up to speed,
Little Plastic Castle
found DiFranco in top form while looking inward.
Accompanied by Jason Mercer's expressive flanged bass, DiFranco confronts outsiders and backbiters in the Grammy-nominated "Glass House" with a voice that rises from a purr to an indignant howl. "If you think you know what I'm doing wrong, you're gonna have to get in line," she sings.
The albums original 12 tracks occupy the set's first three sides. The final side includes bare-bones but compelling bed-track versions of "Gravel," "As Is," and "Two Little Girls," emphasizing the core trio of DiFranco's guitar, Sara Lee's bass, and Jerry Marotta's drums in new mixes by Tchad Blake. Marotta' Steve Gadd-style rhythm is accentuated in this performance of "As Is." DiFranco's nimble folkstyle guitar is in sharp focus during the bonus cut of "Two Little Girls," as she worries over a former lover suffering from the consequences of a toxic new relationship.
From the original album, tracks like "Deep Dish" and the defiant, dub-and-Highlife influenced title track "Little Plastic Castle" expand into Technicolor with vibrant brass arrangements. The songs are punctuated by DiFranco's percussive acoustic guitar playing and her sharp-tongued beat poetry.
Like "Glass House," other fare on Little Plastic Castle examines life in the fishbowl of rising fame. "They can call me crazy if I fail," DiFranco sings on "Swan Dive." "And they can call me brilliant if I succeed." She also remains utterly self-aware as her career transitions and expands. "I'm queen of my own compost heap, and I'm getting used to the smell," she sings during the same song.
DiFranco also comments on the culture at large at a time when she was gaining wider access to examine it. Songs like "Fuel" and its withering critique of modernity in decline seem every bit as relevant today as they did a quarter century ago.
The gentle but unsettled "Independence Day" pulls no punches in self-examination. DiFranco long ago earned acclaim as an uncompromising artist, unafraid to sing hard but relatable truths with brutish and dare-you-to-flinch imagery. The song's arrangement relies on just DiFranco's voice and guitar and Mercer's bass, operating as another point-blank confessional.
"What can I say, I adore you," DiFranco sings to a two-timing lover on "Gravel." The words arrive with resignation but no small amount of spite, accompanied by razor sharp guitar that opens into cartwheeling flurries and cutting shards. Elsewhere, she warms up even when the knives are out. "Just give up and admit you're an asshole," she adds wryly on the gently tumbling "As Is," while maintaining that she'll forgive all and the pair will stick together.
The album remains a favorite among DiFranco fans, and the artist herself seems pretty fond of it, too. The title track, "Fuel," "Gravel," "As Is," "Two Little Girls," and "Swan Dive" continue to make regular appearances in concert set lists. The 2xLP set arrives on translucent orange "goldfish" vinyl in a gatefold sleeve.