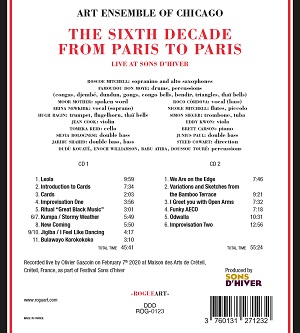 20 January 2023
For its fiftieth anniversary, groundbreaking collective Art Ensemble of Chicago staged a special concert in a country near and dear to their hearts. France was one of the first countries to embrace the Ensemble's unique approach to music (in general) and jazz (in particular), fully grokking the group's genre-busting take on improvisational and musical expression. So saxophonist Roscoe Mitchell and percussionist Famoudou Don Moye – the only surviving founders – staged the show in Paris during the Festival Sons D'Hiver, expanding both the band and (once again) their aesthetic into a chamber orchestra, with strings, more horns, and vocalists, and resulting in the double album set The Sixth Decade: From Paris to Paris.
On disk one, percussion takes precedence, as has been the case for much of the Ensemble's long career – an application and expression of rhythm being the primary building block of what the band calls "great black music." Of course, other instruments make their presences known – unsurprisingly for an expanded aggregate that includes top flight jazz musicians like flautist Nicole Mitchell, cellist Tomeka Reid, trumpeter Hugh Ragin, and bassists Jaribu Shahid and Junius Paul. Not to mention, of course, Mitchell, one of the great woodwind masters of the past five decades – he keeps his lines spare, but they say a lot with little space. But the most prominent of the second line is guest vocalist Moor Mother, the wildly talented poet/rapper whose own free jazz sensibilities fit in with the Ensemble as if she'd been a member all along. Performances like "Leola," "New Coming" and "Kumpa/Stormy Weather" set scenes that take the audience deep into the heart of Black creativity.
The melodic instruments come back to the fore on disk two. Horns and strings drive the first two songs "We Are On the Edge" and "Variations and Sketches From the Bamboo Terrace," with the latter – an extended meditation – also featuring singer Roco Córdove and a rare (for the AEC) piano solo from Brett Carson. Moor Mother returns for the reserved but intense "I Greet You With Open Arms* and sticks around for "Funky AECO," a full-on dance party featuring some fiery saxophone from Mitchell, the admonition "please don't stop the music," and audible crowd love. The joy continues with "Odwalla," the band's live staple serving as a platform for player introductions. The full cast returns for an extended improvisation to close the show in a gently epic fashion.
We could name all the musical groups as expansive and ambitious as the Art Ensemble of Chicago on one hand. It's comforting to hear that, as the group enters the titular decade, it's lost none of its desire to explore, confound, and inspire.