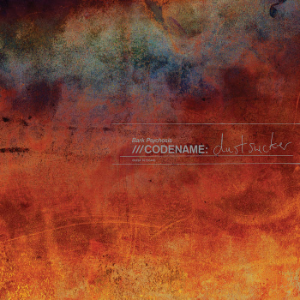 24 June 2018
Codename: Dustsucker is a reissue of an album that originally emerged in 2004. The band hailed from East London and only released a smattering of full lengths, singles, and EPs. Their sound was innovative for its time, and begged comparisons to Talk Talk and Durutti Column. The sound is an amalgamation of noirish electronica and post rock and hints of jazz. There are many more purveyors of this type of sound now than back then, but this double album stands out nonetheless. Graham Sutton is the mainstay here, everpresent in a shifting ensemble over the years.
This music is unsettling, sparse, elegant, and always engages the listener. Yet, it is never easy listening by any stretch. The closest it comes is the gorgeous "400 Winters" with hushed vocals and warmth suffusing every delicately rendered note. The backing vocals and understated percussion are the icing on the cake! "The Black Meat" is another winning track, reminiscent of Spirit of Eden Talk Talk. I love the muted trumpet and the sophisticated musical journey it takes the listener on. "Miss Abuse" burbles along for awhile, then gets caught up in uneasy atmospherics. "Burning the City" is quiet and contemplative, dominated by piano and soothing the senses.
"INQB8TR" has fuzzy sonics and hangs low like ground fog, catching you unawares as it infiltrates your synapses. It picks up energy halfway through before settling back into its undulating, chilled out groove. "Shapeshifting" features a female vocalist, though I have no information on who this singer is. Needless to say, her voice is not unlike Sia from Zero 7. Her elegant vocals mixed with an equally attractive musical tapestry makes this tune a winner. The final tune "Rose" is oddly affecting, a chilled out tribute to a lonely landscape. In short, this is a triumphant reissue of a record that some feel defined the whole post rock genre. Well worth your time!
Pick up the album over on Bandcamp.