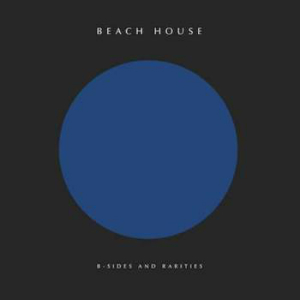 5 July 2017
Listening to the drowsy "Chariot" on this sunny summer day, I am transported to a field full of wildflowers and a lazy stream meandering nearby, with sparkling sun motes catching reflections on the water as dragonflies dart in and out of the light. It is a far more appealing image than where I am actually sitting, in a car dealer with someone chattering on a phone in the background and competing TVs dueling for my attention. None of it matters when Beach House ensnares you with their gorgeous dream pop confections. According to the band, 'Our B-sides are not songs that we didn't like as much, just ones that didn't have a place on the records we were making. The idea for a B-sides record came when we realized just how many non-album songs had been made over the years, and how hard it was to find and hear many of them. This compilation contains every song we have ever made that does not exist on one of our records.'
Alex Scally and Victoria Legrand make this sound all so easy, when we know it's not. They toss out these sonic treasures like it's child play, and we are so fortunate to have these songs. "Baby" seems ripped out of time, dripping with vintage, retro cool as it glides along slowly as if moving to a slow waltz. "Equal Mind" was recorded during Bloom, but was pulled from the record as it contained the same tempo as "Other People". What a lovely song, it could so easily be a hit, if the current miasma of commercial radio was firebombed and recreated with intelligence and grace. It takes the listener away for a bit, removing them from the troubled world that surrounds us. "Used to Be" is a 2008 tune that was recorded for the band's fall tour with the Baltimore Round Robin, and it's simple in construct but a pure pleasure to the ears. The band's cover of Queen's "Play the Game" was recorded in the same session, and it's a fine tribute to one of their influences. "Baseball Diamond" hails from the Depression Cherry/Thank Your Lucky Stars sessions, and it is obvious from the high production values and hazy dreamscape this song emits. Essential listening! "Norway" is an iTunes session recorded back in 2008, and it's been remixed for this rarities collection. It is less accessible than some of the other songs here, and is moody and shrouded in mystery. "The Arrangement" is competing with loud music at Starbucks, and it takes a concentrated effort to drown out the coffee grinder. I like the merry go round keyboards and the strong main melody, and Victoria (excuse the pun) sounds simply grand!
"Saturn House" is watery and trippy dream pop that came to life during the Bloom recording session. It is built on a piano loop and also contains sounds recorded in deep space, due to its original inclusion on a compilation of space sounds from 2014. I adore the feeling of this one, as it unwinds its delicate tendrils and enfolds me. Another winner! "Rain in Numbers" is a poorly recorded (on a borrowed, out of tune piano) artifact that dates back to the band's first summer as a band. Its appearance here is more interesting for historical reasons than anything else. It has ghostly vocals floating over antique piano meanderings and provides a blueprint for the band's other, more stellar work. "I Don't Care for the Winter Sun" is a chilly, minor masterpiece that was recorded between tours and offered free on the Internet in an unmastered state. The band mastered it for this record, and I am glad it's available. Very evocative and pretty. "Mile Stereo Cough Syrup Remix" has slowed down tape effects and is cinematic and lovely. "Wherever You Go" is the final tune here, and it was originally a secret song on Bloom. Not much to offer except it's somewhat short and is a fine way to end things. In summary, this is a cool collection of dreamy and occasionally psych-inflected pop, and will please listeners.
Catch up with the band on Facebook and over on Bandcamp.