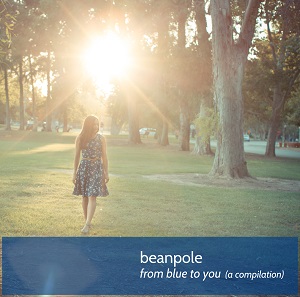 4 February 2014
Though Verna Brock may be more well known for her contributions to '90s indie rock with Northern California bands like Holiday Flyer and Rocketship, she also recorded several 7"s and EPs as Beanpole, her 4-track persona. From Blue to You collects all of her '90s releases, as well as some unreleased tracks, in one place for the first time.
Beanpole's style is intimate and immediate, characterized by sparse production consisting mainly of Brock's over-dubbed harmonizing vocals and jangly guitar with the occasional accompanying flute and drums. There is an introverted quality to the songs, like she's performing less to us and more to herself. As sweet and soothing as her melodies can be, a hint of sadness and a touch of loneliness can also be detected. These are honest recordings, completely lacking any self-conscious pretension, instead offering a candid glimpse into the life of a genuine California girl in the '90s.
While these tracks can be rough and far from musical perfection, they have heart, and that means something. Take a journey into the past, before the internet was on everyone's phone and music still existed as a physical product. Seems like a dream, doesn't it?