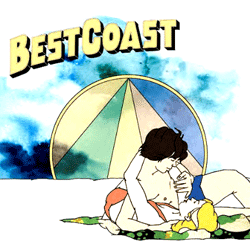 20 April 2013
Released on Record Store Day in collaboration with Clarks Originals (a shoe company), this is the first new music that Best Coast has released since last year's fantastic, but somewhat slept-on 2nd Lp The Only Place.
As such, it picks up right where that album's more upbeat numbers (such as the title track and "Let's Go Home") left off, but somehow I prefer these tracks as the bulk of The Only Place was dominated by beautiful, heartbelt balladry. Thus, these songs stand out more on their own. The overall result is a slightly more produced version of those more upbeat tracks on The Only Place, not quite the return to the lo-fi noise-pop of Crazy for You or the noisier early singles that some were anticipating with this release.
Though the A-side is terrific, the B-side "Who Have I Become" might the best song that Best Coast has ever recorded. It features an insanely catchy guitar riff courtesy of Bobb Bruno, an indelible melody, more passionate singing from Bethany Cosentino and typically soul-searching lyrics probing insecurity within relationships. I have found it almost impossible to keep it off my turntable (note: it doesn't come with a download code) since picking it up very recently and I must have played it at least half a dozen times at this point.
If this is the kind of stuff they're releasing as B-sides, I absolutely can't wait for their third album. As such, up to this point they can absolutely do no wrong!