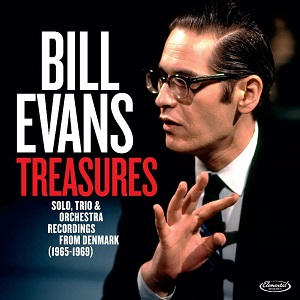 25 April 2023
Producer Zev Feldman (AKA "the Jazz Detective*) and Elemental Records continue their tremendous work exploring the archival depths of the late, great Bill Evans with Treasures: Solo, Trio & Orchestra Recordings From Denmark (1965-1969). As indicated by the title, these performances come from Danish radio, and have not been heard since they were first broadcast in the sixties.
Disk one leads off with eight trio tracks recorded over two months with bassist Niels-Henning Pedersen and drummers Alan Dawson and Alex Riel. Ripping through his usual mix of standards ("Come Rain or Come Shine," "Who Can I Turn To?," an amazing "Someday My Prince Will Come") and originals ("Time Remembered," "Waltz For Debby"), Evans' lyrical, finger-twisting playing reminds anyone with ears just why he's one of the most influential pianists of the past sixty-plus years. More ambitious, however, is the final six songs, which find Evans backed by an orchestra arranged and conducted by Dutch jazz titan Palle Mikkelborg. (He would perform a similar service to Miles Davis on his eighties album Aura.) Also featuring his working trio of bassist Eddie Gomez and drummer Marty Morell and sticking strictly to originals, including one from Mikkelborg, Evans proves his mettle against lush instrumentation, particularly shining on "Walkin' Up" and a flat-out gorgeous version of "Time Remembered."
Disk two is divided into one third solo performance and two thirds trio. By himself, Evans tends to turn inward, as if he's allowing us to peek in on his private thoughts. That gives takes on the standard "My Funny Valentine," Thelonious Monk's "'Round Midnight," and especially his own "Re: Person I Knew" a sublime intimacy. While it sounds like damning with faint praise to say so, the trio tracks are typically fine as always. Joined by Gomez (at his best as co-soloist here) and either Riel or Morell, Evans sticks to familiar terrain – "Time Remembered," Miles Davis' "Nardis," perennial favorites "Autumn Leaves" and "Stella By Starlight" – but never goes through the motions. He plays each tune as if he's playing it for people for the first time, and his delight in his own skills and the interplay with his crew gives each song a true sparkle. This is Evans as his most engaging, and as such, this disk – indeed, both disks – could easily serve as an introduction to one of the world's greatest jazz artists.