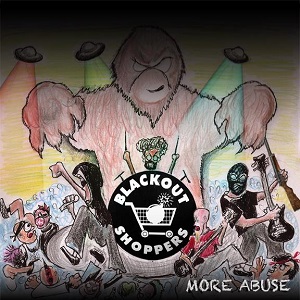 29 January 2015
Where most hardcore bands go soft shortly after their debut, ten years of rage have only made Blackout Shoppers meaner and better on their long overdue sophomore full-length.
More Abuse perfectly captures the band's live sound. Driven by Mike Moosehead's blistering guitar riffage, which recalls early Bad Brains and Cro-Mags, and propelled by the deceptively excellent rhythm section of bassist Blackout Matt and drummer The Beast, aka their secret weapon, the songs explode in a relentless series of minute-and-a-half attacks. Underneath the controlled chaos, vocalist Seth Amphetamines spits raw fury, screaming at the top of his lungs, but still slightly buried under his bandmates. It's the sound of anger, frustration, disgust and everything else that made classic '80s hardcore so infectious.
Blackout Shoppers aren't nice, they aren't cute, they're not warm and fuzzy and they're certainly not your friends. They're more likely to bash your head in with a lead pipe, kick your limp body around a dark alley and piss on your face because the dumpster is too far away, which, coincidentally is exactly what makes them so great. Embrace the abuse.