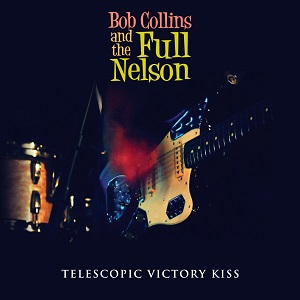 21 May 2015
Former guitarist for Medway, UK's The Dentists, Bob Collins, offers a debut solo album that owes as much to his psychedelic garage background as to power pop.
Telescopic Victory Kiss jangles with the melodic tendencies of Collins' former outfit while focusing on an elegantly matured songwriter. The resulting ten songs recall The Jam's and The Smiths' middle to late period as heartfelt lyrics told from life experience unfold over finely crafted song structures. Collins' exquisite guitar solos slide out of nowhere, evoking classic blues rock with a paisley flair. It's an overdue statement from an artist looking to make a mark outside the legacy of his past.
The Dentists are long gone, but Bob Collins and the Full Nelson are here with an excellent album of memorable tracks to help fill the void. Turn it up and bask in their grace.