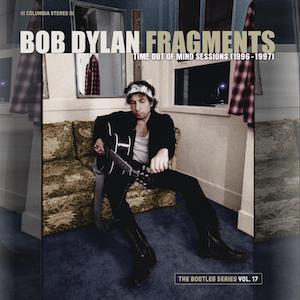 27 January 2023
The Bootleg Series, the long-running archival project dedicated to unearthing music from Bob Dylan's massive stash of previously unreleased recordings, has taken varied approaches from one edition to the next. More Blood, More Tracks offered a deep dive into the making of the acclaimed Blood on the Tracks; Springtime in New York, on the other hand, sought to shed a more flattering light on a less-celebrated period of Dylan's career, presenting a wide-ranging survey of his early-'80s efforts.
There's no need for critical rehabilitation on Fragments – Time Out of Mind Sessions (1996-1997): The Bootleg Series Vol. 17, which revisits the era of Dylan's triumphant Time Out of Mind. Widely hailed as a masterpiece, this brooding album was his first collection of original material in seven years and marked a creative rebirth for the troubadour. Compiling 60 tracks on five discs, Fragments strives to rewrite history in a different way from any previous Bootleg Series entry, taking a page from recent Beatles reissues with a remix of the original album. Although the liner notes take pains to insist this is not meant to replace the first version of Time Out of Mind, it feels like an emphatic repudiation of producer Daniel Lanois' approach. Undoing the sonic processing and generally cleaning up Lanois' murky sound – perhaps intended to mimic the vibe of long-lost 78s – the remix is brighter and more immediate, suggesting what the band may have sounded like in person, rather than filtered through the stylized treatment of the man at the controls. Guitars, drums and keyboards can be heard clearly, no longer wrapped in fuzz, and while there's still echo on Dylan's voice, it's less pronounced than before, when it seemed like Lanois wanted to recapture the eccentric vibe of Sun Records.
The other four discs collect outtakes, alternate versions and live recordings, all testifying to Dylan's fierce work ethic. In addition to the original album's 11 compositions, Fragments features five tunes relegated to outtakes, meaning a lot of repetition of songs (among them 12 previously released on the Bootleg Series edition Tell Tale Signs). You get seven versions of "Can't Wait," for example, and six of "Mississippi." As any true Dylan scholar knows, however, things can vary wildly from one rendition to the next, whether it's changes in tempo, surprising arrangements or even different lyrics. You might have to be a patient lunatic to sift through all the subtleties of this intriguing package, but for those who care, it's a sweet kind of insanity.