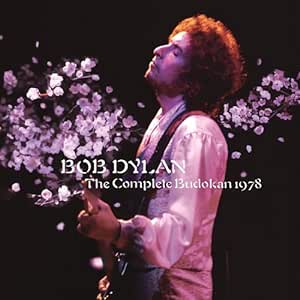 20 November 2023
Spotlighting two concerts at Tokyo's Nippon Budokan Hall, The Complete Budokan 1978 expands the original '70s release At Budokan, which was Bob Dylan's third live album of the decade. With performances of 57 songs, 35 previously unreleased (plus two tracks of chatty band introductions), this four-CD set finds him striving to stay fresh by refusing to treat the songs as sacred texts, instead vigorously stretching, bending and twisting familiar material into new shapes.
The band on Complete Budokan was built to support Dylan's restless sprit. Along with roots players like David Mansfield (mandolin, dobro, violin) and Steven Soles (acoustic guitar), the lineup includes Phil Spector veteran Steve Douglas on sax and flute and a rousing trio of gospel-soul backing vocalists (Helena Springs, Jo Ann Harris, Debbie Dye). The result is an earthy but polished show, as if a well-oiled r'n'b band tried to meet the Dylan catalogue halfway.
This approach often works well on the '70s songs, imbuing such newer Bob standards as "Going, Going, Gone" and "Oh, Sister" with moody passion. The older songs are a mixed bag. A breezy, flute-driven "Mr. Tambourine Man" feels too glib; the show-opening, instrumental version of "A Hard Rain's A-Gonna Fall" suggests a karaoke bar. But the snarling "Ballad of a Thin Man" and a wild-eyed "All Along the Watchtower" crackle with revisionist life. Dylan scholars will note the presence of two rare (and terrific) blues covers: "Repossession Blues," by rockabilly all-star Roland Janes, and Tampa Red's "Love Her with a Feeling."
The Complete Budokan 1978 comes with a big photo book chronicling Dylan's Japanese visit and an elaborate package of facsimile memorabilia (tickets, posters, etc.), for those who want to time-travel in earnest. At its best, the music sizzles in its own idiosyncratic way. As for the rest, Bob was never one to play it safe, and bless his little heart for that.