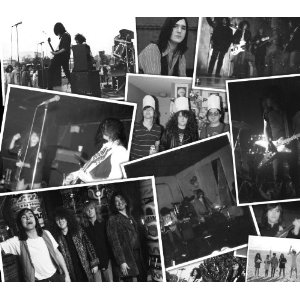 12 August 2010
Back in the bad ol' days of the 80s, before it was called "alternative" or "indie" rock, music that was off the major label/top 40 radio radar was often referred to as college rock, thanks to the campus-bound radio stations that most played it. In the college rock universe, Sonic Youth, the Hoodoo Gurus and R.E.M. (pre-"The One I Love") were major stars. But there was a shit-ton of lesser known acts treading the same boards, cranking out independent labeled records and low-budget tours for little or no recognition. At the time a lot of these bands were dismissed as lightweights, copycats or uninspired also-rans – they passed into obscurity and no one missed them. Until now, anyway, when a generation that grew up on these artists lost interest in what's on the radio or in Pitchfork and started digging for the music they remembered from their carefree university days. Plenty of download blogs fed that habit, and now today's crop of indie labels have taken notice, rescuing some of these bands from undeserved oblivion.
Carnival Season is one such band. In the mid-80s, the Birmingham, Alabama trio (originally a quartet) made two EPs and a sole LP for the well-respected but long-defunct What Goes On label, touring as best it could before dissolving. Mostly forgotten (except by Tommy Keene, who produced the album and has worked with bassist Brad Quinn frequently since), the band deserves better and gets it on Misguided Promise. Gathering up everything the group recorded, including both EPs, the album, a pair of demos and a couple of live cuts, the disk makes the case for Carnival Season being a candidate for Great Lost Band of the 80s. Falling somewhere between the jangling power pop of the New South (Let's Active, the Windbreakers, et al) and the turbocharged punk/pop of the Minneapolis crew (Hüsker Dü, the Replacements, etc.), CS moves from chime to crunch in a heartbeat. Guitarist Tim Boykins is a marvel, equally at home knocking out squalling riffs or pouring on trickling arpeggios, and his solos display both skill and taste. His and Quinn's boyish vocals work in tandem with the instantly appealing melodies to make the tunes almost ridiculously accessible – no deliberate weirdness here. Put it all together and you get great-sounding, memorable tracks: "Misguided Promise," "Waiting For No One," "Please Don't Send Me to Heaven," the epic "Potential Crime," the stomping "Black Velvet Elvis," the quirky "Manifold Man," the disturbing yet tuneful "Wondering About the Knife."
It could be argued that Carnival Season was basically derivative of other, bigger bands on the 80s college rock scene. But it seems clear that the group wasn't trying to emulate anyone in particular so much as make the kind of music it found exciting, and there's a palpable sense of enthusiasm in every track. Worry less about how Carnival Seasons may sound compared to more famous artists and more about its catchy, well-performed tunes and you'll find Misguided Promise irresistible.
http://www.myspace.com/carnivalseason
http://www.arenarock.com