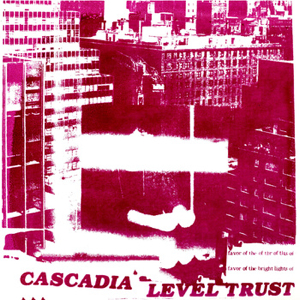 22 March 2013
While Vancouver trio Cascadia's 2012 Green Burrito cassette Conditionally staggered grunge-gaze bangers alongside pensive, mellower moments, follow-up Level Trust — a four-song vinyl EP issued by noise-pop peers Weed's Cruising USA imprint — makes haste.
In three turbulent minutes, shoot-from-the-hip opener "Josie" goes from pummeling to ethereal, then back again. Centerpiece "Yours" charges through a labyrinthine series of progressions with momentum to spare. B-sides "Deny" and "Ever" are slower, but just as astral.
Dynamo drummer-singer Sasha Langford's revved-up rhythms are busy and inventive, her vocals plaintive and intense. Cam Borthwick's guitars meld wonky indie-prog string-bending to skyward Siamese Dream-ing, while Dan Loan counters the open-tuned proceedings with thoughtful bass riffs cloaked in fuzzy RAT distortion.
Comparisons to Mazzy Star, Sonic Youth and Olympia's mercurial Broken Water are apt if somewhat lazy, considering the overwhelming layer of sludge Cascadia adds to its '90s-tinted palette. At its most aggressive, the band even nods in passing to black metal and hardcore influences.
Fidelity-wise, Level Trust's raw, loud and very live-sounding 16 minutes push the seven-inch format's extremes. Still, Cascadia's melodic intuitions are easily discernible beneath the noisy façade, hitting a timeless sweet spot where punk and shoegaze collide.