27 July 2009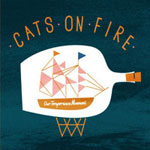 The Finnish band Cats on Fire is unmistakably indie-pop, in the late '80s UK sense: witty, sensitive songs delivered in a graceful, crisp way. Their second album Our Temperance Movement has its share of carefully put-together songs with alluring if not completely unfamiliar-sounding melodies. But new doesn't have to be new, if that makes sense; or, familiar-sounding music is still new if you haven't heard it before.
More importantly, these songs are sweet, smart and/or sad on their own two feet. They have a generally melancholy mood, but with a wink, and music that never feels stagnant. "Never Sell the House" has a nicely delicate, slow-motion vibe that sits nicely with the sly humor, the portrait of domestic life, and the worry inherent in the plea to keep it the same. The rollicking "Tears in Your Cup" is similarly observant of someone the narrator wishes we behave differently, even if in this case he's also possibly enjoying the wildness of what he's seeing – someone drinking along with his favorite rock music – or at the very least capturing some of the spirit in the music.
I like the cleverness of that song's observation, "I always thought that there were tears in your cup / but years went by and I never saw you cry". And that's the way it goes with Cats on Fire. Every song has at least one nice turn of phrase, or a line that neatly encapsulates the whole story or feeling of the song. Match that to catchy melodies played well on nice-sounding guitars, and you've got something special.