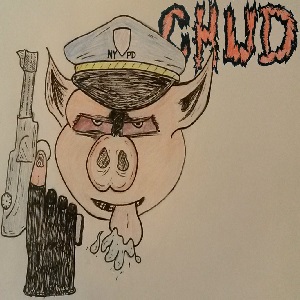 3 June 2015
New York hardcore newcomers, CHUD, make their debut with a blistering eight-song EP that goes straight for the jugular with the confidence of a puma.
Less than fifteen minutes long, Out of the Sewers rages with the fury of early '80s hardcore acts like Poison Idea, Antidote and Virus. Vocalist Cris P Weiner snarls hatred like Poison Idea's Jerry A. with a touch of John Joseph from Cro-Mags over Jason's blisteringly heavy guitar riffs. Dan's bass rumbles with fuzz and filth to Ryan's relentless drumming. It's hardcore the way it should be, i.e., straight to the point with a punch to the jaw.
Next time some idiot pisses you off by being stupid, turn up CHUD and remember you're not the only one seething with anger. Then grab a beer and forget about it.