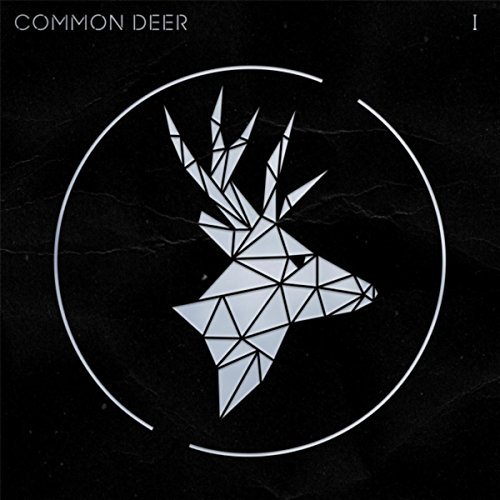 13 March 2017
It's clear from the opening moments of Common Deer's debut EP, I, that there's something special about them. After all, the Canadian "orchestral indie" quintet—which formed in 2014 and includes two sets of siblings—is filled with multi-instrumentalists who incorporate a mixture of classical, electronic, and standard rock tools to merge several styles. (In a way, they're like a fusion of The Decemberists, Death Cab for Cutie, Björk, and Of Monsters and Men.) Also, I was produced by Laurence Currie, whose work with Sloan and Wintersleep, among others, demonstrates his skills at bringing out the best in each mix. Add to that a consistent blend of gorgeous vocals exploring a wide array of subject matter (like "a reflection on toxic codependency" and "a rejection of normative adulthood") and you have a wonderfully poised, dense, and beguiling collection that's infinitely replayable.
Part of the ambition behind I was "breaking down the perceptions of classical instruments as inaccessible and carving a place for them amidst synths, drum machines and modern riffs." Co-vocalist and co-lyricist Graham McLaughlin clarifies: "Classical music can sometimes come across as intense or rigid, but with this band we've put an emphasis on letting go and really enjoy[ing] what's happening in the moment," while cellist/guitarist Adam Hart-Owens adds, "It would be great to see more classical musicians not using these instruments as a gimmick to gain popularity, but rather to explore and push boundaries and incorporate other genres." Without a doubt, Common Deer accomplishes this flawlessly across all five tracks, delivering not only lovely arrangements in which to get lost, but also songwriting that's equally absorbing and lovely.
"Confessions (I Should Have Known)" kicks off the EP with a pastoral blend of delicate guitar tones, somber violin coatings, and a beautiful duality between the voices of McLaughlin and Sheila Hart, all of which is encased in a charming waltz tempo and restrained drumming. Fittingly, the verses and pre-choruses are regretful and airy, whereas the chorus is more energetic and upbeat, etching itself onto your tongue and memory. Lyrically, it's a strong merger of poeticism and relatability, with lines like "I should've known this was bigger than me from the start / When I abandoned my head and I followed my heart / Maybe someday we'll see rivers blue and meadows of green / But for now, there is only you and me" feeling both idealistic and realistic. All in all, it's an endearing and robust way to start.
In contrast, "Damages" is sparser and colder overall, with programmed percussion, a driving bass line (courtesy of Connor Farrell), and miscellaneous effects complementing its rock foundation and Hart's dominant presence. It's kind of like the previous song's aesthetic mixed with Radiohead's Kid A. Next, "Settle Down" is easily the most jovial piece on I, with Farrell once again standing out with an engaging flow as McLaughlin and Hart capturing delightful romanticism and enthusiasm in their harmonies and chants. Of course, Liam Farrell keeps things ordered with syncopation that's stylish yet never showy.
The penultimate "Feather and Bone" returns to the warmer vibe of "Confessions," with both singers sharing the spotlight again. There's a stronger focus on orchestral textures here, though, as well as a perpetual deadened note progression that keeps the sequence dramatic. As for closer "Doorway," it rather dreamy and solemn, with strained guitar croons adding bluegrass ambiance to contrast introspective piano chords and verses. There's also an invigorating touch of electronic beats in the background, and the way the arrangement swirls as it closes makes it an even more intense and beautiful way to end. In terms of pure songwriting and lyricism, it's the strongest part of I, too, with genuine reflections that'll connect with just about every listener.
I doesn't usher in a brand new genre; rather, it perfects a special type of music that only a few other modern artists can match. In other words, many other bands proffer some combination of rock, pop, indie, folk, bluegrass, and electronic, but only a handful can do it so assuredly and interestingly. Plus, Common Deer's songwriting and vocals are simply a step above what many of their contemporaries accomplish, both in terms of diversity and quality. As such, I is an immensely rewarding and superior first effort that promises great things for future releases.