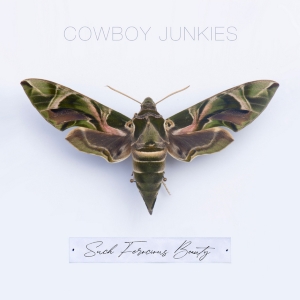 4 June 2023
I've been a Cowboy Junkies fan since the late 80s when "The Trinity Session" (BMG, 1988) was gaining popularity. All these years later, I give them a ton of credit. They're a band that mapped out their artistic vision, strengths, and distinctive sound very early on and it afforded them enough breadth to keep albums engaging and far from formulaic.
Toronto's Cowboy Junkies are a family affair with oldest brother Michael Timmins the band's chief architect; songwriter and guitarist. Working with singer Margo and brother Peter on drums, lifelong friend Alan Anton plays bass while co-writing several songs on the new record with Michael.
Approaching 40 years together, their discography is lengthy. They've released more than 20 studio albums in addition to multiple live records and compilations and are still going strong with no band member changes and no breakups – a rare animal in the music world.
The new album, "Such Ferocious Beauty" was just released on June 2nd on Cooking Vinyl. As The Big Takeover recently announced, this is the band's first new material in five years, and follows their recent covers collection, "Songs of the Recollection" (Proper Records, 2022), which featured songs penned by Gram Parsons and Neil Young among others.
The new record primarily reflects on topics we can all relate to: aging and the loss of parents, and how we cope with the reality of death and live through loss. As Margo reflects about her brother, "Mike has never shied away from the darker, harder and sometimes uglier realities of our human condition, nor has he shied from its beauty. Thankfully, with one comes the other."
Musically, SFB plays to Cowboy Junkies' strengths, balancing between restraint and exploration. Tracks are played loosely with a sketch-like quality, seemingly effortless as if they were written and performed on the spot while sitting 'round a campfire. In fact, Michael says he and Margo "spent more time working through the songs, letting her interpretations really settle before taking them into the studio. And in the studio, [we] took the time to layer and experiment, to create even more dynamic tracks than [we] often do."
The first four songs are perfect representations of the band's signature sound, style, and range. "What I Lost" is a mini-soundtrack for a Joshua Tree evening staring at stars and soaking up the emptiness. Distant, raw, reverbed, and sometimes dissonant guitars set a tone for tragedy that carries over into "Flood", a standout for me. As Michael says, "the way I communicate urgency is through guitar. On 'Flood,' it carries the entire song. I wanted to evoke pure urgency, so I wanted the guitar to be a five-alarm fire. There's often no solo, just this underlying guitar to support the lyrics and not stay out of Margo's way. That conflict raises the urgency."
Track three, "Hard to Build. Easy to Break" has a great bassline with Alan's songwriting contributions here and across five of the album's 10 tracks. Next up "Circe and Penelope" captures the Junkies' alt-country sound, which also carries over in other places like "Throw a Match" before *Edge*-like guitars surge.
Stripped down tunes like "Hell is Real", "Knives", and closer "Blue Skies" remind listeners that even when it's just Margo singing with Michael's accompanying acoustic guitar, songs feel full and lack for nothing.
Links