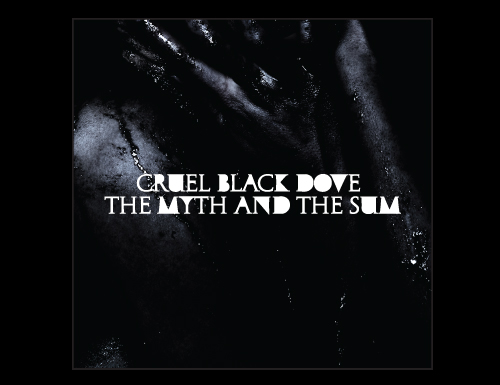 11 January 2010
Cruel Black Dove's The Myth and The Sum showcases a mature electronic slink compelled by moments of abyssal depth and seductive ethereality. A slick gloss of production combined with singer Anastasia Dimou's rich, charismatic vocals demonstrates the band's signature synthesis of electronic rock. The sonic drama present in Cruel Black Dove's previous output has been transformed into a seething restraint lurking just below the surface, and The Myth and the Sum is replete with this dynamism.
"Forgotten Place" opens the EP with a melancholic slow grind where interwoven melodies take center stage above a sharp driving groove that's repetitive and trance-like, yet never boring. "Isolation" follows, which has nods to both trip hop and brit pop and is sweeping, catchy and dance-worthy. Lyrically, it's erotically-charged and heavy with mystery. "I see the light pour in like/Gold on my thighs/He says that he has visions/How's mine?" Dimou muses as Alan Veucasovic's angular guitar line pushes to the fore, adding texture and bite.
"The Myth and the Sum" and "Tied to the Pavement" stand out with particularly strong keyboard parts: the melodies aren't virtuosic but are captivating and paired excellently with the vocals. On "Raking Water," bassist Shirley Ho and drummer Jonathan Nanberg's rhythm section is equally noticeable. This track digs deep and drags you even deeper. It's touches like these that make each listen reveal new delights.
Although the five songs on the album can all stand alone, they also blend seamlessly when taken in at once. Few EPs hang together so perfectly: The sum of the parts is an intoxicating whole.
Download the first single, "Isolation," on RCRD LBL, and come see the band for yourself at Cruel Black Dove's CD release show this Thursday at the Mercury Lounge.