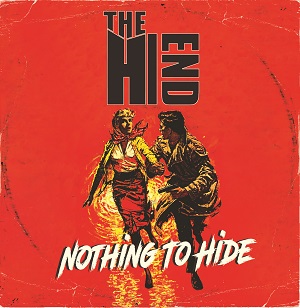 29 September 2023
Boston enclave Rum Bar Records may not have hit the notoriety of, say, Bomp! Records yet, but trust us when we say they have the market cornered on high quality power pop, punk, garage rock, and genre-agnostic rock & roll. This batch of highlights from its most recent round of releases reveals the label at the top of its game right now.
Better known as Watts, Peppermint Kicks, and Shang Hi-Los co-frontman Dan Kopko, Danny the K leans hard into the power pop side of his personality with Cigarettes & Silhouettes. Going it alone a la Todd Rundgren (or Dave Edmunds), the Boston rock icon beautifully balances the sweet 'n' salty with "Roller Derby Girl," "Sugar Rush," and the title track, as superb a song as he's ever penned. He also incorporates electro-rhythms in "Met You in the Elevator" to add yet another flavor to his rock & roll jones.
L.A. multi-instrumentalist Joe Jennings has been making records as J.J. & the Real Jerks for years, but remained under the radar until now. Rat Beach collects tracks from last year's mini-album Mess You Up and combines them with some new tunes for a sleazy r 'n' r collection that's as much tongue-in-cheek pseudo-anthems ("Mile High Fight Club," "Lost Souls Pub") as sneering social commentary ("Deprecation Blues," the title track). Regardless of lyrical intent, Jennings bashes out stripped-down rock & roll hooks, making "Dead in the Water," "Split Decision," and "Bridge Worth Burning" cool-ass rockers no matter the intent.
The Downhauls follow up last year's spitfire Versus (All Modern Evils) with another four-song EP, the equally blasting Scream Into the Void. Chrissy V and the rest of the Boston quartet continues to perfectly balance melody and madness, laying down singalong powerhouses like "Spit Out the Poison" and "Don't Care" with the ease of veterans and the fury of the terminally angry. Remember when the Bangles rocked Simon & Garfunkel's "Hazy Shade of Winter" into the ground? The Downhauls take the same song and say "Hold my beer."
Like the Downhauls, Fullerton, CA's Cornfed Project specialize in anything that's loud and riffy. The quartet's self-titled debut bursts with hooks, melody, distortion, and attitude (there's the name of your next record, y'all – you're welcome), played with the proper amount of wild-eyed glee. Singer/songwriter Matt Wheeler buries some real craft under the mania, resulting in stick-to-the-ribs tunes like "Out of Town," "Wind Her Up," and "Long Time Ago." If you see their name in the listings opening for fellow travelers Supersuckers, Watts, or even a Replacements reunion, make sure to get there early.
The Hi End returns with their second album Nothing to Hide, and continues to show the virtues of three chords, riffs derived from Chuck Berry, and the energy of a pot of coffee and a loud amp. Guitarist Bruno Giordano cranks out the riffola like he was born to it, bassist Anthony Giordano and drummer Scott Sugarman keep the rhythms a-hoppin', and vocalist Johnny Carlevale shakes his fist, bares his soul, and cops an attitude with easy aplomb. If anything, the Hi End showcases even more meat 'n' potatoes rock & roll than the Cornfeds or the Downhauls on songs like "Actions Speak Louder," "Livin' in a Bad Dream," and a breathless cover of Cock Sparrer's "I Need a Witness." Not a bad thing when it's done with this much verve, skill, and love.
The Gypsy Moths' 2022 album Following the Races was one of Rum Bar's biggest and most delightful surprises for this writer last year, so the seemingly immediate follow-up with Sound On is most welcome. Clearly not wanting to be restricted to the garage rocking soul of their prior record, the sextet expands on its vision here, incorporating country rock ("Home To You"), folky pop ("A Six Man Bicycle," "Metronome"), and "Don't Let the Love Songs Fool You," which imagines what would have happened had the Beatles recorded at Stax. Though "No Respect For Tomorrow" returns to Races' blue-eyed soul, the specters of Joe Jackson and Graham Parker haunt the grooves more than Southside Johnny. Another fine album from a band that refuses to be pigeonholed.
Listen to just a few seconds of Stars Like Ours and you'd swear it was 1994 again. The Boston three-piece's devotion to the early nineties, when alternative rock was in its toddler years and at its peak, is uncanny: big pop hooks, ear-bleeding distortion, sweet 'n' sour vocals, over-caffeinated drumming. The five songs on Better Every Day – the follow-up to last year's excellent self-titled album – are a sheer delight for those of us who came of musical age in that era, and "Winding Down" and "A Way to Remember" kick as much ass as anything back in the day. Warning: may cause spontaneous bouts of jumping around one's office playing air guitar.