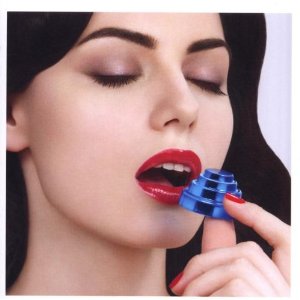 25 July 2010
Devo has made its first album in twenty years and I'm pretty shocked to say it's a winner. In fact, it's the best thing the band has recorded since 1982's often maligned but underrated "Oh No It's Devo!"
After initially being underwhelmed by the "Song Study" version of this record, which saw fans select the cuts based on hearing thirty-second samples, I thankfully secured the official, band approved, album, which I'm reviewing here. The official version is clearly better, so much so that it monopolized my ears' attention for the past few weeks. My wife and our three-year old daughter (who loves "No Place Like Home" — a.k.a. "the piano song") can attest to that.
Though "Something for Everybody" may well include something for everybody it doesn't offer everything for everybody and that includes me.
But that's OK. In fact it's much more than OK because Devo has finally returned to form, which is genuine cause for celebration. Let's be honest. The group's output has been fairly dire for more than a quarter century. (Live, however, Devo still has it. See my review of Devo's thrilling November, 2009, NYC performance when they played their debut, "Q: Are We Not Men? A: We Are Devo!" in its entirety.)
Devo, which at its lyrical best effectively balances goofiness and absurdity with serious philosophical and cultural concerns, strikes the right balance here topically, though some of the lyrics are subpar. On its surface, the propulsive, thumping, synth-driven music twinkles with a bright commercial sheen, reflecting a scrubbed polish that belies its underlying substance. However, repeated plays reveal a far more accomplished record.
What's baffling, however, is that aside from the aptly titled and excellent single, "Fresh," which starts the album, much of the best material comes near the end. "Later is Now," the tenth song, is fantastic pop in the best sense of the word, showing Devo playing as gracefully and naturally as could be expected in 2010. Nothing feels forced. The group, which has long warned that a "devolutionary" arc/fate is inevitable for humanity unless it changes its shortsighted ways, makes its point explicitly without sounding preachy — a tall feat.
"Later is Now," with its simpler and more memorable chorus, could arguably have done better as the single than the more varied and musically challenging "Fresh." That said, "Fresh" is more immediate and visceral, making it the right song to promote on TV, as Devo did on David Letterman and Jimmy Kimmel, where the imperative is to grab the attention of a largely distracted public. (Streaming the record for free on Stephen Colbert's web site was a savvy move by both Devo and Colbert.)
The eleventh song, "No Place Like Home," is slower and features a piano. In that way it's musically unlike anything else on the record, but it's clearly one of the best. Wearing his "serious hat," singer Mark Mothersbaugh vocally channels Dave Vanian of The Damned circa 1984, as he addresses life's big questions.
 
The album's finale ends on an exciting and triumphant note in "March On." The synth melody and song's more elaborate construction are winning. And the synth that begins after the pause that follows the "March On" chorus is perfectly timed and inspired.
"Cameo" is the strangest thing on this record and while I can see why people might not like it, I think it's fairly brilliant and daft to the extreme. I would love to hear the story behind this one.
However, the main problem with this record is that a fair amount of the songs are merely decent at best. After repeated plays, I tend mainly to listen to "Fresh," "Later is Now," "No Place Like Home," "March On," "What We Do," "Cameo" and "Human Rocket."
Of the remaining five songs, "Please Baby Please" is a dud. I can't understand why it was placed as the third song. "Mind Games" may well be worse but it's hard to tell. Its electronica fondly recalls the eighties, but the song itself fails and the chorus could hardly be less satisfying. "Sumthin'" is also lame. Strange that this cut would contain the album's title. "Step Up" is better as it offers up a fantastic groove and the song works through the verse portion, however the tune collapses like a razed building once the chorus kicks in. "Don't Shoot (I'm a Man)," which evokes 1981's "Working in the Coal Mind" at the open, is okay if not good — when I'm in the right mood. At other times, its bombastic thrust and looped keyboard runs grate.
The "Song Study" variation includes "Watch Us Work It," "Signal Ready" and "Let's Get to It." The official recording replaces them with "No Place Like Home," "March On" and "Cameo." By offering mere thirty-second samples, Devo asked its fans to make big decisions with limited input. I love that Devo opened things up this way. I just think they went about it the wrong way. Next time, if they want to conduct a song study they should offer at least a minute for each track or skip the whole exercise. My suggestion: ditch the exercise. Then again, that may be wishful thinking. With two versions of the same record Devo stands to make more money.
Devo got significant buzz for the way in which it promoted this record, smartly embracing Facebook, Twitter, YouTube and its own site. It employed focus groups and the marketing group, Mother New York, to make a splash — and that it did. (Let's not forget the "Something for Everybody" cat listening party.)
Yet while I initially feared that an aggressive and high profile marketing campaign would be more memorable than the record being promoted, I can thankfully say that's not the case.
(Blue) hats off to you Devo!